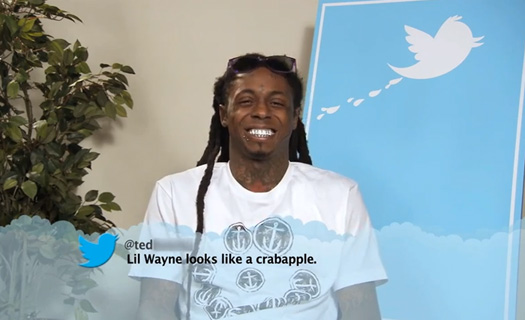 For a new segment of "Mean Tweets" on Jimmy Kimmel Live last night, Jimmy got a bunch of music artists to read one terrible tweet that has been wrote about them on Twitter. These artists included Selena Gomez, Demi Lovato, Pharrell, Kid Rock, Backstreet Boys, Big Sean, Katy Perry, 2 Chainz, and of course Lil Wayne.
For Weezy F Baby's message, someone had tweeted that he looks like a crabapple. Like Wayne himself, I don't even know what a crabapple is and when I googled it, I got a bunch of plants… so it doesn't make sense at all.
"I don't know what a crabapple is, fuck all y'all"
This skit was filmed back in June when Tunechi made an appearance on Jimmy Kimmel Live for an interview!