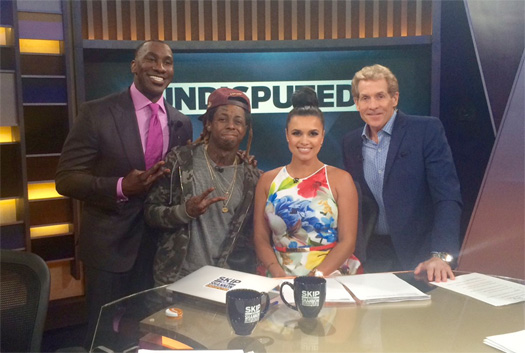 This morning at 9:30AM, Lil Wayne made an appearance on Fox Sports 1's "Skip And Shannon: Undisputed" show to chat with Skip Bayless and Shannon Sharpe, which of course we already know Wayne has the theme song for.
While on the show, Weezy spoke on his retirement tweets by saying he did them after an argument with what's going on with his Cash Money situation, explained he hasn't deleted them as he still feels "mentally defeated", mentioned he will never work with Birdman ever again even if he pays him what he is owed, and how it felt to have a bunch of music artists like Drake, Young Thug and Kendrick Lamar come to his defense.
Before the interview wrapped up, Tune also talked about creating the "No Mercy" song, wanting to work with Michael Jackson and Prince, why there are no such thing as "remixes" anymore, how he became a Green Bay Packers fan in New Orleans, Aaron Rodgers, the only politics to himself are his kids, LeBron James, his tattoos, Kevin Durant's decision to sign to the Warriors, Dwayne Wade returning to Chicago, Colin Kaepernick's protest, being blessed enough to never deal with racists throughout his life, being saved by a white police officer when he shot himself, not thinking there is such thing as racism anymore after seeing every race at his shows, and plenty more!