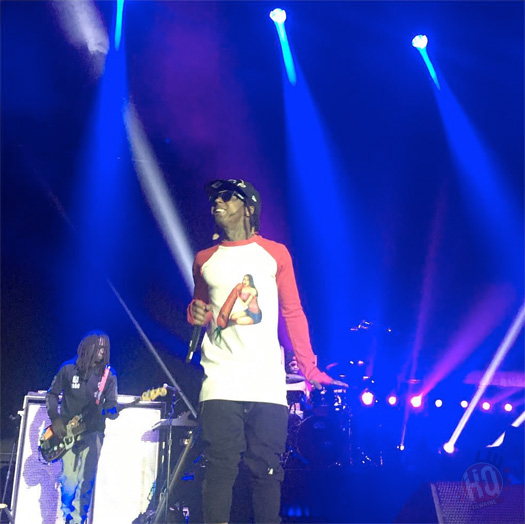 On January 21st, Lil Wayne kicked off his "The Dedication Tour" by performing live at the El Paso County Coliseum in El Paso, Texas.
I've been asked a few times by people in e-mail how long Tunechi's set is and what the full setlist is, so that them and their friends can rap along to all of the lyrics. Well Tune's set lasts around 1 hour and 30 minutes and the full setlist in order is as follows:
"Mr. Carter", "Coco", "I'm Goin' In", "Blunt Blowin'", "6 Foot, 7 Foot", "Rich As Fuck", "Believe Me", "I'm Me", "She Will", "London Roads", "Nightmares Of The Bottom", "Pop That", "Loyal", "Pop Bottles", "I'm On One", "Karate Chop (Remix)", "Only", "Hell Ya Fuckin' Right (HYFR)", "The Motto", "I'm Single", "How To Love", "Bitches Love Me", "Every Girl" with Mack Maine, "Go DJ", "Hustler Musik", "Leather So Soft", "Right Above It", "Comfortable", "Mrs. Officer", "Lollipop", "Got Money", "Rollin'", "Jumpman", "Wasted", "Pussy Money Weed", "Where Ya At", "Ride For My Niggas", "Cross Me", "Finessin'" with Baby E, "Live From The Gutter" with HoodyBaby, "Drop The World", "Mirror", "A Milli", "John", "Truffle Butter", "Steady Mobbin'", and "No Worries".
You can watch Weezy performing all of these songs live in the videos after the jump below. Wayne will next be performing live at the American Bank Center in Corpus Christi, Texas for a stop on his "The Dedication Tour" later tonight!