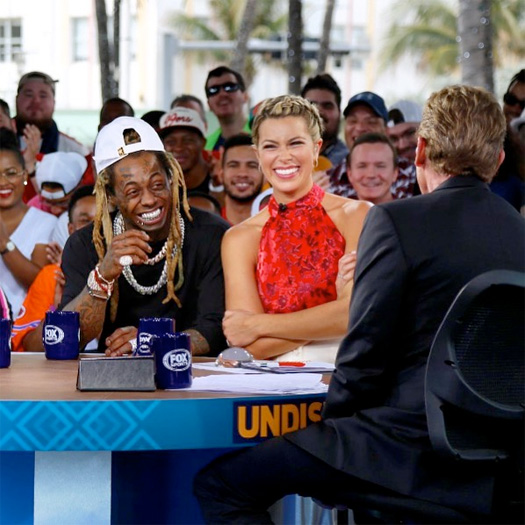 On January 31st, Lil Wayne made another appearance on the live show of "Skip And Shannon: Undisputed" in Miami, Florida to chop it up with Skip Bayless, Shannon Sharpe and Jenny Taft.
At the start of their conversation, Tune spoke about Funeral, how he wanted to carry on the Rebirth album legacy by dropping this new album, what impact he wants to see from Funeral, having a 24-second tribute for Kobe Bryant on the project, turning in a total of 52 songs for 24 to be picked, and not knowing what "sleep" is.
Throughout the interview, Weezy also discussed the Cowboys, Kobe Bryant's death, how he thinks the Los Angeles Lakers will dedicate the rest of the season to Bryant, expecting LeBron James to go even harder, not being offended by Doc Rivers' recent quote about the Clippers and Kobe, Packers' Aaron Rodgers having the best Super Bowl LIV performance since 2006, and more.
You can check out footage of Tunechi arriving to "Undisputed" with his fiancée La'Tecia Thomas and see the full show after the jump below. Skip also gave back Wayne the key to his car that he recently borrowed!