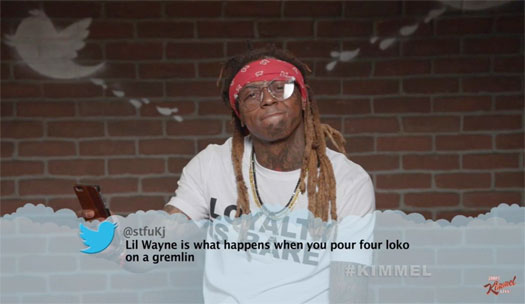 Remember back in 2013 when Lil Wayne appeared on a "Mean Tweets" segment during Jimmy Kimmel Live and was called a crabapple? Well, Wayne has now appeared on a new hip-hop edition of "Mean Tweets".
During Thursday evening's (August 9th) episode of Jimmy Kimmel, the Young Money founder read another terrible tweet about him on social media: "Lil Wayne is what happens what when you pour Four Loko on a gremlin."
As well as Weezy, this new "Mean Tweets" skit also included 50 Cent, A$AP Rocky, Eve, Pusha T, Big Sean, Remy Ma, Rae Sremmurd, Anderson .Paak, DJ Khaled, Trippie Redd, Tyler The Creator, Logic, Awkwafina, Lil Yachty, Wale, Ty Dolla $ign, Yo Gotti, and T-Pain reading out hate tweets about themselves.
You can check out the full video after the jump below to see Tunechi's reaction. Tune filmed his part back in June of 2017 when he performed "The Way I Are (Dance With Somebody)" live with Bebe Rexha on Jimmy Kimmel Live!