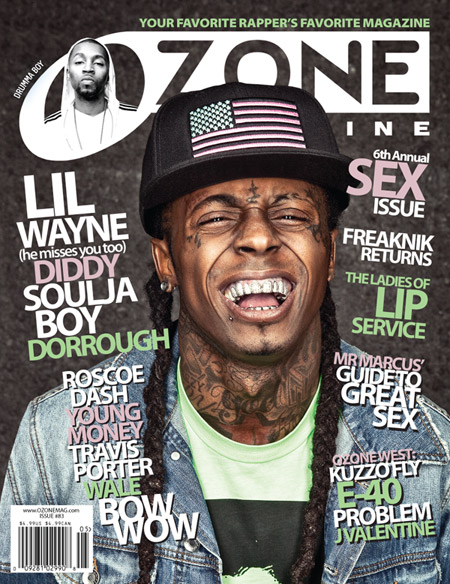 Lil Wayne covers the front of Ozone Magazine's "Sex Issue" which will be hitting newsstands soon. You can see the front cover above, and also read a few excerpts from the issue below. Weezy talks about his relationship with Shanell, The Carter Documentary, baby mama's, personal life, respecting women, and more.
There was some controversy over the release of The Carter documentary. Did you feel like they emphasized the drug addiction aspect too much? Is that the reason you didn't want it released?
The fact that we didn't want it released was business; paperwork. I feel like, if I agreed to have that camera around me, then I can't tell that person what to edit when they go to the editing room, unless I am in the editing room and editing with them. If I'm not then I shouldn't complain, but I was supposed to have a say-so because I had to approve it. And that was the whole [problem]. I didn't approve it and they still put it out.

So you weren't happy with the creative aspect or the business or both?
It was some of both. There were females on there with me and sh*t, you know? Why give them some shine when I've got baby mothers? I believe as an editor or whatever, as a person associated with me, if you want to become a real business partner with me I believe you should consider things like that. I shouldn't have to be the one to consider it.