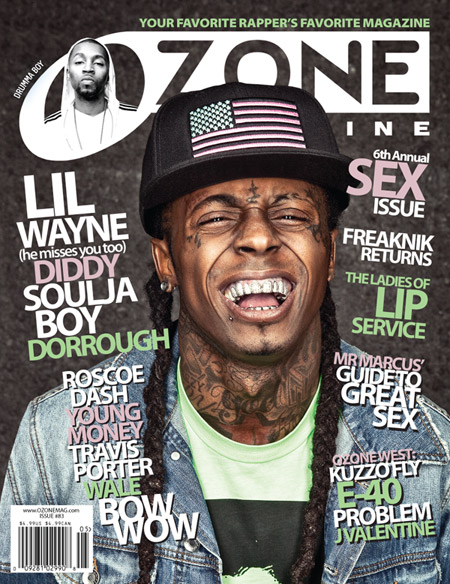 Lil Wayne covers the front of Ozone Magazine's "Sex Issue" which will be hitting newsstands soon. You can see the front cover above, and also read a few excerpts from the issue below. Weezy talks about his relationship with Shanell, The Carter Documentary, baby mama's, personal life, respecting women, and more.
There was some controversy over the release of The Carter documentary. Did you feel like they emphasized the drug addiction aspect too much? Is that the reason you didn't want it released?
The fact that we didn't want it released was business; paperwork. I feel like, if I agreed to have that camera around me, then I can't tell that person what to edit when they go to the editing room, unless I am in the editing room and editing with them. If I'm not then I shouldn't complain, but I was supposed to have a say-so because I had to approve it. And that was the whole [problem]. I didn't approve it and they still put it out.

So you weren't happy with the creative aspect or the business or both?
It was some of both. There were females on there with me and sh*t, you know? Why give them some shine when I've got baby mothers? I believe as an editor or whatever, as a person associated with me, if you want to become a real business partner with me I believe you should consider things like that. I shouldn't have to be the one to consider it.

On whether he considers himself a good father and child support:
I'm not on child support with none of my kids cause I'm a great father. So it's not determined by how much money you're paying at all. That's not what it's about. It's about being there and being that important person in their lives. It's about being #1 or #2 in their life. That's very important for your child, to make sure you're that #1 or #2. Because if you're not, you know what #1 or #2 could end up being. That's the most important thing of all. I just try to make sure I'm of the highest importance in their lives, next to their moms.

On respecting woman but still calling them hoes and bitches in his songs:
There's two answers to that. One is – there are bitches. There are hoes. There are ladies. There are women. There are girls. Pick which side you're on. When somebody's saying something about "bitches," if they didn't say "Julia is a bitch," if it doesn't apply to you then it doesn't apply to you. The second answer is, you'd have to be a woman who's met me to know if I believe you're a bitch or a hoe or whatever.

You worked with Shanell a lot on the Rebirth album. Was it more of a musical connection at first and then became more personal, or vice versa?
Since when did it become a personal thing?

I don't know. I thought y'all were an item?
That's a rumor, sweetheart. No, it's never been a personal thing. As far as us being friends, yeah. That's my friend. Shanell is a great artist and that's it, period. She's a Young Money great artist. I heard a rumor that she was pregnant from me. How could that be? We've never had sex. How could she be pregnant from me? You've got to have sex to be pregnant. That's one of the things you have to do. I don't understand how people's brains work. You know? I'm a really big person. I'm a real superstar. I'm not afraid to tell you or nobody else, you know? I die every week [according to the rumors]. I'm in jail right now [according to the rumors].

So the intrusion into your personal life bothers you?
No, it bothers you, because you have to actually think if it's true or not and come sit down and ask this dumb ass shit. I know you have to feel stupid, because it's like me sitting here and looking at your [brown] hair and asking you, "Since you dyed your hair green, how do you feel?" Your hair obviously isn't green.

Your tweets are mostly about love. Is that your mentality at the moment?
I asked Twist when I got on Twitter, "What am I supposed to do?" He said, "You're supposed to say what you're thinkin'." That's what I be thinkin'.

Is love what you think about all the time? Or just right now?
Right now. I think about the moment, but my thoughts usually last for days and lifetimes.

I know you're generally not too concerned about the critics, but you did get a lot of flak for the four baby mamas.
I don't think what people think should be any concern of anybody's. It's definitely not a concern of mine. I'd be crazy if it was and you're crazy if you are.

I think people translate "he has four baby mamas" as "he disrespects women."
But that goes back to me not caring about what people think or say. They wanna be [baby mama] number five, six, and seven, so…

Did you go through a phase where you were, um… wanting to spread your seed? Or was it just the way things happened?
You'd have to be a woman that's with me to know what phase I was going through. If I was to answer that question for you or for the world or for this magazine, then I'd be the dumbest nigga on the planet.

How are you able to have several baby mothers and they all appear to get along pretty well?
That's another answer that's none of your concern. Shouldn't be.

Fair enough. Too personal with the questions?
You did your job and I did mine.