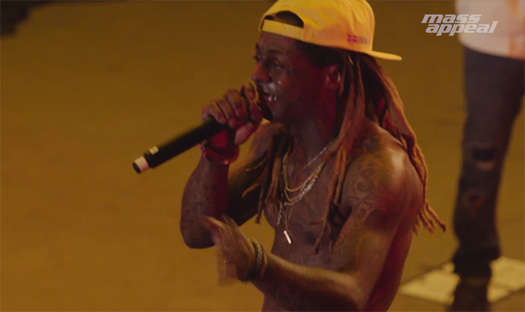 I posted up some footage yesterday of Lil Wayne performing "Ride For My Niggas" at MASS APPEAL's 3rd annual "Live At The BBQ" during South by Southwest (SXSW) in Austin, Texas on March 16th.
Now we can check out footage of Weezy letting us fans know he is fine even though he going through some "bullshit" with his record label before going into performing "No Worries" live.
"In all real and all honesty, I know y'all do know I am going through some bullshit with my motherfuckin' career and niggas is tryna steer my career without letting me do or say a damn thing, but it's moments like this that made that bullshit this big to me, I appreciate it. If you think I am stressing or letting this shit get to me, please remember there's too much good pussy and too many great motherfuckin' loyal fans to worry about bullshit-ass Birdman!"
You can watch Tunechi's rant about Birdman and his "No Worries" live performance at Stubb's BBQ in 2 clips after the jump below!