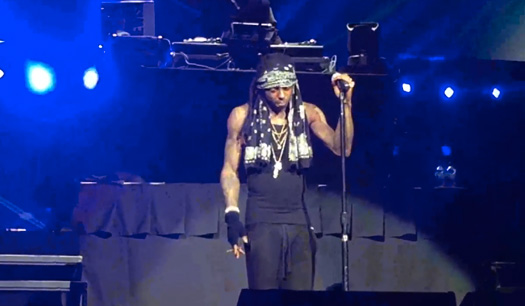 The final stop of Lil Wayne's "The Dedication Tour" took place earlier this month at the Pinnacle Bank Arena in Lincoln, Nebraska on March 6th.
You can watch some footage that was filmed from the 3rd row at the concert, courtesy of Jeremy Inhoff, after the jump below. Tunechi comes out at around the 10:00 mark of the clip after Rae Sremmurd's live performance.
In the video, Weezy can be seen talking to the crowd, as well as performing "Mr. Carter", "Coco", "Blunt Blowin'", "Rich As Fuck", "I'm Me", "She Will", "London Roads", "Pop Bottles", "I'm On One", "Only", "The Motto", "Single", "How To Love", "Bitches Love Me", "Every Girl" with Mack Maine, "Go DJ", "Leather So Soft", "Right Above It", "Lollipop", "Rollin'", "Pussy, Money, Weed", "Where Ya At", "Finessin'" with Baby E, "Live From The Gutter" with HoodyBaby, "One Time" with Lil Twist, "I Don't Like The Look Of It" with Gudda Gudda, "Drop The World", "Mirror", "Truffle Butter", "Steady Mobbin'", and "No Worries" live!