After Sean's upcoming mixtape The Inkwell drops, Garrett will be focusing on the launch of his album. He's close to finalizing a deal with Cash Money Records. Lil Wayne brought the deal to the table before he went to prison.

"I really got a lot of respect for Wayne," Sean said. "Wayne embraced me with open arms before he went on a little vacation. He took me on tour with him. He was really open arms about rocking with him. He put me on the pilot seat going on right before him. I got a lot of respect for Cash Money, because it represents where music is going as far as really believing in yourself and not just being in a box. Just creating your own style, your own movement and believing in your team. Cash Money is really family-orientated. I can bring a lot to Cash Money, in reference to what I do, developing their other artists, helping them to travel across the water. They've got artists they are trying to break internationally. It's sort of a win/win situation."

Sean has been on the road, opening for Gucci Mane, and he said he's about to go on tour with Cash Money/Young Money family member Drake.
Via MTV, and it looks like Lil Wayne was a big part of Sean Garrett's deal with Cash Money Records! We can also be expecting the full version to "Girls On Girls" on Sean's The Inkwell mixtape which is dropping soon, and then hopefully we will get the music video for it.
—————————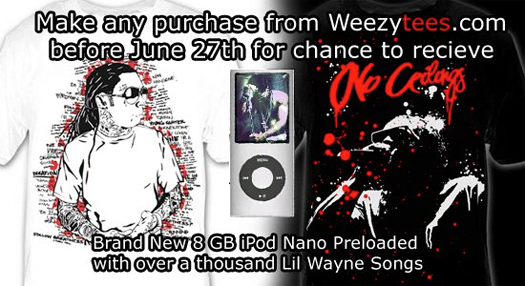 The homie Cam from WeezyTees has just gotten in some brand new "No Ceilings" style t-shirts! You can cop one below, and if you haven't already got a "Dedication 3" tee, you can also order one of those below too! These shirts are sick, and Cam is also giving out a brand new iPod Nano preloaded with thousands of Lil Wayne songs to one lucky person who makes a purchase before the 27th of June. So make sure you get yours for your chance to win!