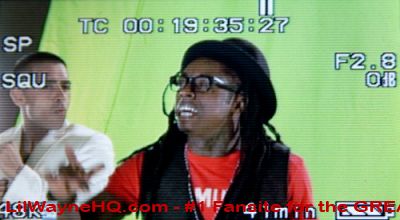 "Right here, you got my man Jay Sean, the new edition of Cash Money Records!" Lil Wayne proclaims as he and Sean stride across an enormous green-screen on the set of the video for "Down." The song — which features Wayne — is the British pop/R&B artist's debut U.S. single, and it's also an important stylistic step forward for the Cash Money label.
"Everybody is used to what Cash Money is, and that's why he has a new sound," Wayne said. "It's for the ladies. We're used to getting in your face … and now we are getting more mature here."
Whatever the case, it's working: The song is already making strong inroads at U.S. radio and the video is set to premiere any day. Cash Money already stepped outside of the hip-hop realm with rocker Kevin Rudolf (who also appears on Sean's forthcoming album), and Jay Sean brings a whole new dimension to its roster.
Indeed, the British-Indian singer — who hails from the London borough of Hounslow — is an unlikely match for the label, but his accomplishments speak for themselves. With two albums under his belt, he is a hot-selling artist in Europe and India. In his seven-year career, Sean has blended his R&B style with Punjabi singers and even reggaetón (courtesy of producers Luney Tunez) before going independent with his 2008 album release, the fittingly titled My Own Way.
And so Jay Sean begins his American campaign: "Down" has hit radio, as has Birdman's "Written on Her," which features Sean. The video for "Down" drops this week, and Sean begins a West Coast promotional tour toward the end of July. His U.S. release, expected in October of this year, will also be titled My Own Way, but will have a whole new set of songs and of course, a couple of Cash Money family features. But even an artist who plays to crowds of more than 50,000 people in Europe and Asia is a surprise signing for Cash Money.
"A producer friend told me that Cash Money Co-CEO Ronald 'Slim' Williams is really into your project, loves the fact that you did it independently," Sean told MTV News. "They understand all about that because that's how they started. They just really want to take you to the next level and bring you to America."
Shout outs to MTV and all I can say is that I can't wait for Jay's album and this "Down" Music Video 😀