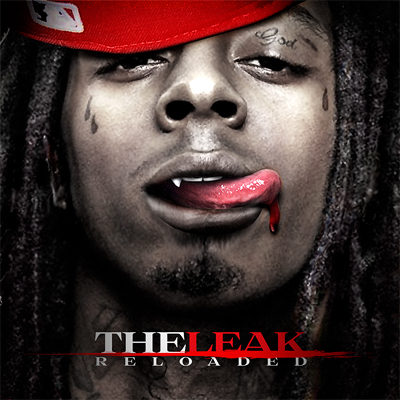 It looks like we will have another unofficial Lil Wayne mixtape on the way and let's just hope it isn't as disappointing as "Public Enemy" was. This upcoming tape is called "The Leak Reloaded" and it looks like there will be some nice exclusives on there including that Omarion and Lil Wayne single which I have warned you all about here and here lol. Unfortunately there is a lot of old tracks on this mixtape, but I know a lot of people who always like these "Leak" tapes, so I will still post them up. You can view the tracklist after the jump:
1. Soo-Woop
2. I Get It In featuring Omarion
3. We Like Cars
4. Salute featuring Fabolous
5. Play In My Band
6. Invasion
7. Million Dollar Baby featuring DJ Drama
8. I'm Feeling Myself
9. Sharp featuring Rick Ross
10. I'm Gone Get It
11. I Told Y'all
12. It's Not Love
13. Southside featuring Birdman
14. Two Four
15. Let's Chill featuring Young Money
16. A Week Long
17. From The Side
18. Feels So Right
19. Let Me Hit That
20. She Know What She Wants
I have highlighted some tracks above which could be exclusives, but they could have also been renamed for example "Let Me Hit That" could be "Every Girl", "Two Four" could be "Kobe Bryant", "Soo-Woop" could be "Major" and "I'm Gone Get It" could be "No Quitter, Go Getter". Also, songs on the tape such as "Soo-Woop", "I'm Feeling Myself", "It's Not Love" and "She Know What She Wants" might be the full versions, as we only have snippets to them tracks currently.
But let's just wait and see 🙂