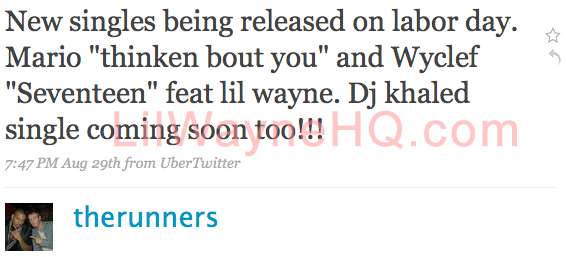 It looks like we will be getting another Lil Wayne record on Labor day (7th September)!
The Runners tweeted that a new Wyclef Jean single titled "Seventeen" will be coming on Labor day and it will feature non-other than Lil Wayne himself.
They also mention a new DJ Khaled song too and there is supposedly going to be a DJ Khaled and Weezy track from Khaled's upcoming album… so maybe/hopefully this will be the record The Runners are talking about.
The song(s) is produced by The Runners and anyone remember Wyclef Jean's and Lil Wayne's collaboration tracks called "Sweetest Girl" and "Operate On Me" ❓ They where awesome and let's hope "Seventeen" will be as good as them or even better 😀