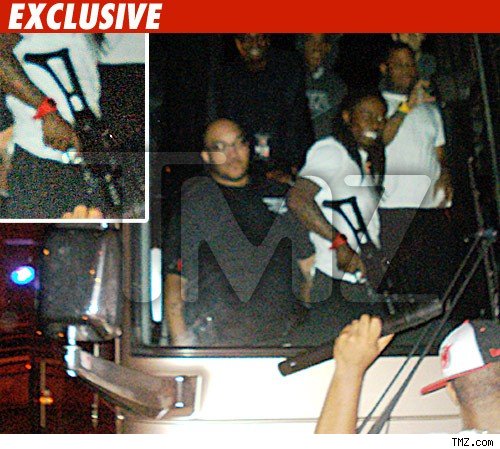 Lil' Wayne is currently being detained at an interior border checkpoint in Texas, this according to a Border Patrol supervisor.

The Border Patrol is not releasing details about the incident — but we're told Wayne has not been arrested. We're told officials are still investigating.

Officials tell us 11 other members of Wayne's entourage are also being detained.

The incident went down in the city of Falfurrias — roughly 100 miles from the Mexican border.
Props TMZ, and we will update this post as the story develops… didn't something like this happen last time in Canada?
Here is an update from TMZ saying: "Weed is a factor in the Lil Wayne incident":
Lil' Wayne was rollin' through Texas with marijuana on multiple tour buses, this according to the U.S. Border Patrol.

Border Patrol agents tell TMZ a random search of the vehicles uncovered a pot stash on two buses — but we're told no drugs were found on Wayne's person … or anyone else in the entourage.

Officials tell us a drug-sniffing K-9 unit picked up the scent outside the bus. Agents then walked the dogs onto the bus, where they located the weed.

As we first reported, Wayne and 11 members of his entourage are being detained at an internal B.P. checkpoint in southern Texas.

So far, no arrests have been made.