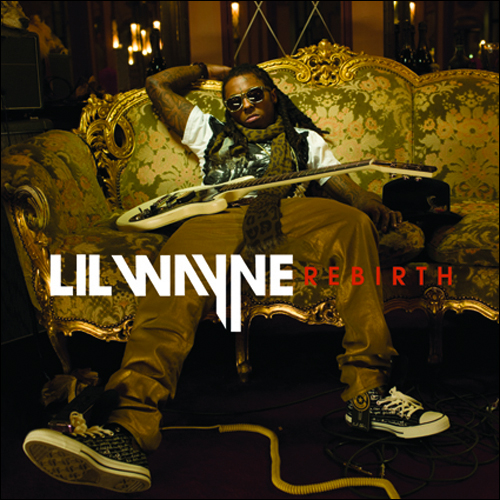 Over the past year, the once ubiquitous white Styrofoam cup that never seemed to leave Lil Wayne's hand has mostly been replaced (in public anyway) with an electric guitar. And if there was any confusion remaining about whether the MC's long-delayed new album, Rebirth, would really take him to the rock side, the full-album leak of the disc on Wednesday put those questions to rest.

Just hours after news emerged that around 500 Amazon.com customers who had pre-ordered the album had received it this week — despite the recent push back of the official street date to February 1 — the full 12-track effort began popping up on the Internet. While Wayne's label would not comment on the Amazon mix-up and did not return requests for confirmation that the dozen leaked songs are in fact the final track listing for the disc, the mastered-sounding tracks appear to be the final product.

Liberally splashed with squealing, multitracked guitars; mostly live-sounding, thunderous rock drums and tempos that range from hard rock to ska to new wave and punk, the album mixes Wayne's signature studio-tweaked spaceman rhymes and twisty flow with the raw, live attack of the band he took on the road this summer on his Young Money outing.

Fans are already familiar with "Drop the World," the scowling, explosive collabo with Eminem that leaked earlier this week, as well as one of the first singles from the disc, the pseudo-metal grinder "Prom Queen," which dropped in January and is one of three songs to feature singer Shanell.

The "Young Money Princess" helps kick off the album on "American Star," a slow-rolling Chicago blues bubbler on which Wayne describes himself as "a dope boy with a guitar," and sings in a strained voice, "I was born and raised in the U.S.A., where my president is b-l-a-c-k."

Two other leaked songs followers will know also made the cut, the trippy funk tune "Da Da Da" and "On Fire," which rides on top of a "Flashdance"-style 1980s keyboard riff and rat-a-tat machine-gun drums.

But it's the songs you haven't heard yet that might surprise even the most loyal Wayne-iacs. "Get a Life" is reminiscent of a mid-1980s new wave song, with a bright, choppy guitar riff and Wayne teasing, "F— you, get a life" to people who won't leave him alone, while "Ground Zero" switches things up with a dark grunge vibe. "I started on the block and that's something to build on/ But how can I pray when I got nothin' to kneel on?" Wayne breathlessly spits in a rapid-fire delivery over echoing, Jane's Addiction-like tribal drums and the ominous drone of electric guitars," adding "Let's jump out a window/ Let's jump off a building, baby," in a near-whisper during the bridge.

He hooks up with another protégé, guitarist Kevin Rudolf, on the molasses-thick pop/nu-metal landslide "One Way Trip," where he finds even more ways to describe how you will never be him over booming drums from Blink-182's Travis Barker. "Drown in my flow, motherf—er/ Bring your swimming trunks," he snarls, adding, "Have a ball until I fall, though/ And if I die today I bet the world end tomorrow … So check your watch, I'm strong as scotch/ Papa was a rolling stone, I was born to rock."

The album also features the dark, live-fast-die-young rock ballad "Paradice," the blitzing Bad Brains-esque punk ranter "The Price is Wrong," one of the hardest, fastest songs Wayne has released so far and another Shanell tune, the soaring rap metal ballad "Runnin'," on which Wayne proves again that nothing can restrain him, especially not the rules of the English language. "This is my testification/ I'ma rain on they heads like precipitation," he growls, "And in hell do you need justification/ But for me it was just a vacation."

To be sure, Wayne further cements his reputation as one of our most gifted rappers on the album, floating his signature flow on a rainbow galaxy of unexpected musical looks — none of them more out-there than a hook-up with another Young Money star-in-the-making, Nicki Minaj, who trades verses with him on the hyper, No Doubt-like pop ska raver "Knockout." On that tune, Wayne mostly abandons rhyming for Auto-Tuned singing, yelping out lines like, "Cuz once you go black/ you never go back … and once you go white/ Everyone else is wack."

Wayne's label has not yet announced what it plans to do in response to the accidental shipment of the album. But MTV News' #5 Man of the Year, who is slated to be sentenced on February 9 on gun charges, is continuing on with business as usual, launching a tour Thursday (December 17) with his Young Money crew for a string of dates that will keep them on the road through January.
Via MTV, and people keep asking me "Do I know Rebirth or We Are Young Money leaked?" and "Why haven't you posted up the albums on the front page?" etc. The answer is simple – I'm not posting up anymore leaks from the album. If you downloaded Rebirth, that's cool – just don't forget to buy it from your stores on February 1st.