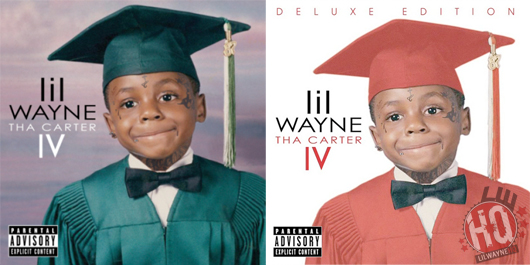 Lil Wayne's ninth studio album, Tha Carter IV, has officially been released worldwide today. Show your support and buy a copy of the album (or more) to support our favorite rapper. Lets help Weezy go platinum, by selling 1 million copies in the first week again!
PURCHASE THE ALBUM ON AMAZON | PURCHASE THE ALBUM ON ITUNES
If you order the Deluxe Edition of Tha Carter IV from Itunes, you will get 4 bonus songs: "I Like The View", "Mirror" featuring Bruno Mars, "Two Shots" and "Up, Up & Away". You can also order the album from Target, where you will only get 3 bonus songs (minus "Up, Up & Away"), but 2 additional exclusive tracks: "Novacane" featuring Kevin Rudolf and "I Got Money On Me" featuring Birdman.
Leave your thoughts on the album in the comments section below along with your thoughts on how many copies you think Wayne will sell of C4 in the first week.