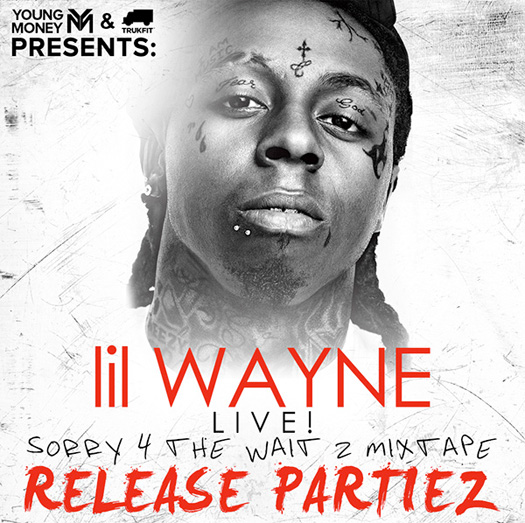 Yesterday, Lil Wayne announced a nightclub tour titled "Release Partiez" for his latest mixtape, Sorry 4 The Wait 2, which will include Tune traveling across the United States of America attending clubs and performing live.
We've already seen footage of Weezy hosting previous Sorry 4 The Wait 2 events, such as on March 13th at BLVD Nights in Kansas City, but the next stop will be at Club Skye in Tampa, Florida tomorrow (March 19th).
You can view a full list of dates and locations for Wayne's "Release Partiez" tour after the jump below. There will be more dates and cities added in the next few weeks!
March 19th – Tampa, FL – Club Skye
March 20th – Tallahassee, FL – Colisuem Nightclub
March 21st – Ft. Lauderdale, FL – Revolution Live
March 22nd – Orlando, FL – Gilt Nightclub
April 2nd – Jacksonville, FL – Aqua Nightclub
April 3rd – Destin, FL – Nightown Club
April 4th – Biloxi, MS – Kress Live
April 5th – New Orleans, LA – The Hyatt Regency
April 8th – Baton Rouge, LA – XO Nightclub
April 9th – Jackson, MS – Freelons
April 11th – Memphis, TN – Reign
April 12th – Nashville, TN – Limelight
April 16th – Columbus, OH – Xclusive Nightclub
April 17th – Cleveland, OH – Vada Nightclub
April 18th – Cinicinnati, OH – Celebrities Nightclub
April 19th – Indianapolis, IN – Suite 38
April 20th – Carbondale, IL – Levels
April 21st – West Peoria, IL – Crusen's Farmington
April 25th – Atlanta, GA – Compound
April 26th – Louisville, KY – Diamond Pub Concert Hall
May 15th – Columbia, SC – Columbia Soundstage
May 16th – Washington, D.C. – Echostage
May 23rd – Lafayette, Louisiana – The District Lafayette
May 24th – Mobile, Alabama – Martini's Fine Food & Ultra Lounge
May 25th – Shreveport, Louisiana – Kokopellis
May 31st – St. Louis, MO – The Complex
June 4th – Elizabeth, New Jersey – ENVY Nightclub
June 15th – San Diego, California – Fluxx
June 16th – Anaheim, California – Heat Ultra Lounge
June 21st – Minneapolis, Minnesota – The Venue
June 22nd – Milwaukee, Wisconsin – Onyx
June 23rd – Danville, Illinois – Studio 25
June 29th – Scottsdale, Arizona – Livewire
June 30th – Tucson, Arizona – Club XS
August 20th – Lawrence, Massachusetts – Rio Bar & Grill
August 21st – Providence, Rhode Island – Roxy Providence