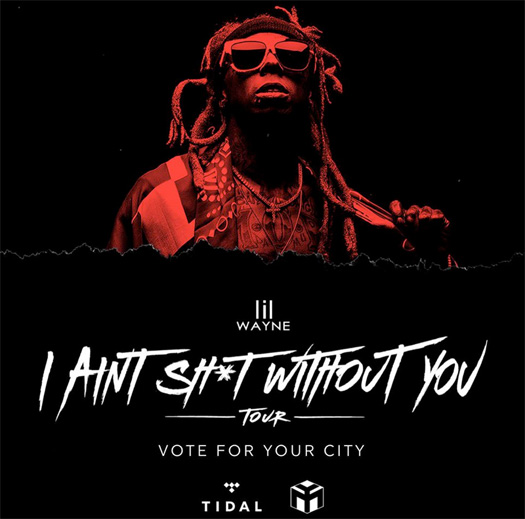 We first heard about this four-city fan appreciation mini tour last week, and now the dates and cities for Lil Wayne's upcoming "I Ain't Shit Without You" tour in the USA have been announced.
Wayne will be putting on live shows in Houston, Texas on December 17th, in Atlanta, Georgia on December 19th, in Washington, D.C. on December 21st, and in Chicago, Illinois on December 23rd.
If you wish to attend any of these concerts, which are in the cities that were the most voted by fans, click here to purchase your tickets online. The Chicago stop will also be live streamed on TIDAL! Will you be going to one of the shows?
Thank y'all for the love!

Stoked to hit Houston on 12/17, Atlanta on 12/19, D.C. on 12/21, and Chicago on 12/23 with @TIDAL on the I AIN'T SH*T WITHOUT YOU tour.

RSVP for tickets on https://t.co/NmBTtxD6ZK #TIDALXLilWayne ? pic.twitter.com/AlHIsWolZi

— Lil Wayne WEEZY F (@LilTunechi) December 11, 2018