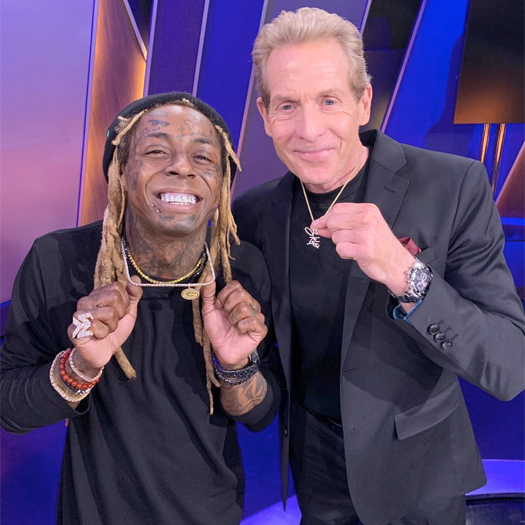 Skip Bayless and his UNDISPUTED co-host Shannon Sharpe recently appeared on "Hot Ones" to chat with Sean Evans while playing a game of "Truth Or Dab" and eating spicy food.
Around the 4:40 mark of the video, which you can watch below, Skip was asked to share the last private text message exchange with his good friend Lil Wayne before he then revealed two of them:
"I'll do two in a row. Two nights ago, he had just returned from doing his first and probably only gig in Saudi Arabia, and it was over the Thanksgiving holiday. And we must've texted 20 times back and forth about what Saudi Arabia was really like."

"And he did say a guy named Your Excellency had come to his hotel suite and promised to send him either a Ferrari or a Lamborghini. 'Which would you like, Wayne?' and he said: 'I'll take a Lambo.' And the guy said: 'The Lamborghini will be at your doorstep at Miami in three weeks."

"It just happened that yesterday was my birthday, and he sent me several [pictures]. He told me when we're in Miami for the Super Bowl: 'the Lambo is yours. Just for the week.'"
Thanks to Amber for the heads up!