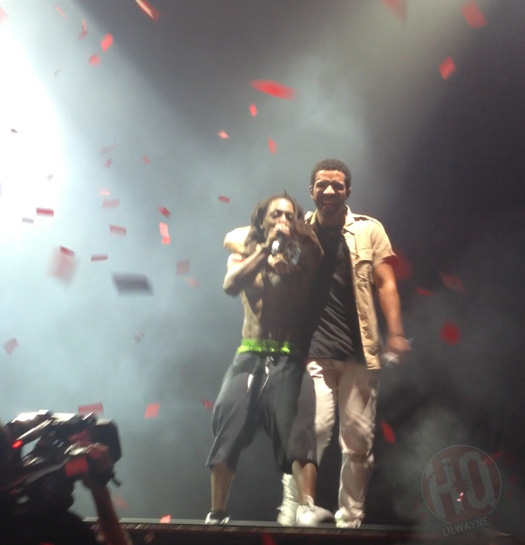 Last night, the first stop on the "Drake vs. Lil Wayne" tour began in Buffalo, New York at the Darien Lake Performing Arts Center. If you missed the previous post on LilWayneHQ that includes Tunechi winning the "battle" and photos from the concert, click here to check that out.
For the people who wanted to know, the show lasts for around 2 hours and the songs that Tune performed live were: "Blunt Blowin'", "John", "Steady Mobbin'", "Mr. Carter", "Money On My Mind", "D'usse", "Ride For My Niggas", "Go DJ", "Pop Bottles", "Hustler Musik", "Leather So Soft", "Drop The World", "Got Money", "I'm Goin' In", "How To Love", "Single", "Mrs. Officer", "Every Girl", "Lollipop", "Bitches Love Me", "Bandz A Make Her Dance", "Make It Rain", "Duffle Bag Boy", "Loyal", "6 Foot, 7 Foot", "Rich As Fuck", "No Worries", "A Milli", "The Motto", "Believe Me", "HYFR", and their new single "Grindin" for the first time ever.
Weezy F Baby also had a few jokes on stage with Drizzy Drake as he could be heard saying comments like: "You was probably still in that wheelchair when I was first making hits", as well as "I'm gonna get CB on this nigga" after performing "Loyal" haha!
Below, you can watch footage of Wayne and Drizzy performing live in Buffalo. The Young Money rappers will next be performing live on their tour tonight in Noblesville, Indiana at the Klipsch Music Center.