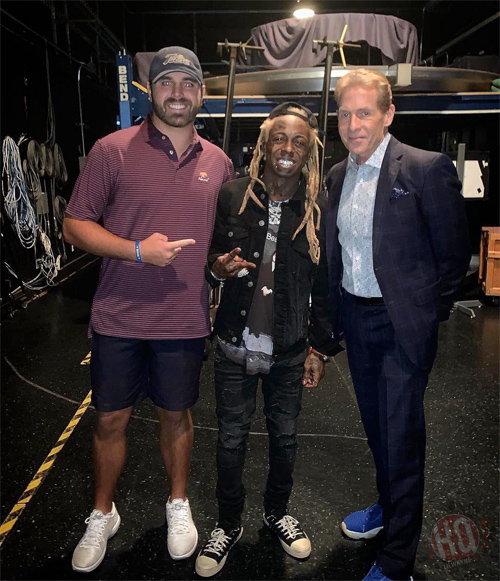 Back in May, Skip Bayless first mentioned that Lil Wayne did a good deed for one of his best friends Craig Humphreys' son, Sam Humphreys, who was battling testicular cancer at the young age of 21-years-old by going out of his way and giving him a pep talk for support.
After appearing on "UNDISPUTED" last month, Skip thanked Wayne for appearing on the show between concerts on his current tour with Blink-182 and for helping Sam beat cancer. He also added that Weezy gave Sam VIP treatment at his Los Angeles show on August 8th and gave him a shout out which ended in him getting a standing ovation from the sold-out crowd.
In other news, Lil Wayne also gifted the hots of "UNDISPUTED" (Skip Bayless, Jenny Taft and Shannon Sharpe) with some special gifts for allowing him to be on the sports show so often – a bit of bling. You can see a picture of Wayne and Sam Humphreys backstage at the L.A. concert above and see the videos of Bayless giving a heartfelt thank you to Tunechi, as well as showing off the gifts from Tune below!