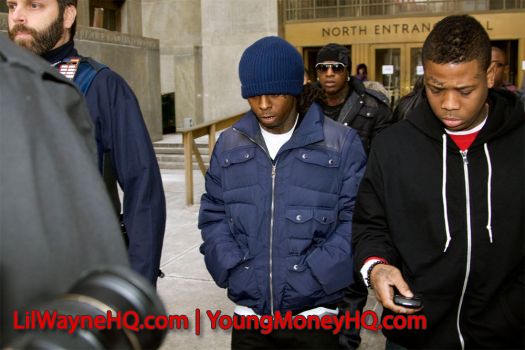 This week, a judge issued a bench warrant to Lil Wayne because he didn't show up for a court appearance in Yuma, Arizona. Obviously, the reason why Weezy never turned up was because he is currently behind bars in New York… Yuma Country didn't care though:
Deann Sandry (Yuma County prosecutor) said it was the state's position that Lil Wayne is now a convicted felon and that a bench warrant should be issued and his bond be increased to $150,000.
Lil Wayne pled not guilty to drug and gun charges from a January 2008 arrest in Yuma. DEA agents stopped and searched his tour bus finding 105 grams of marijuana, 29 grams of cocaine, 41 grams of ecstasy pills, and a 40-caliber pistol.
This could turn out even worse for Wayne if he gets charged guilty 🙁 You can also view Tunechi's 'Inmate Lookup Page' for Riker's Island here.