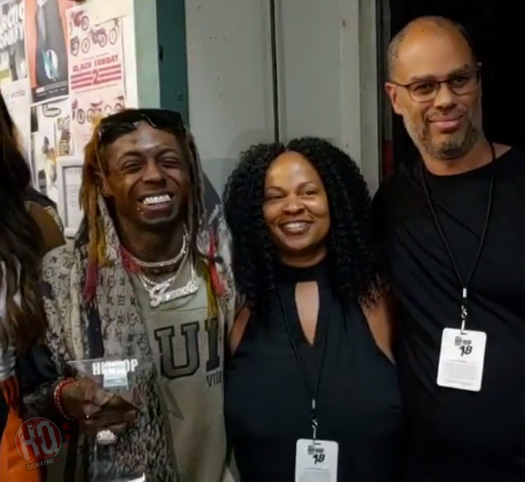 After finding out about this news last month, Lil Wayne was presented with the "I Am Hip-Hop" award during the 2018 BET Hip-Hop Awards at the Jackie Gleason Theater in Miami, which aired on television last night (October 16th).
Before accepting his award from DJ Khaled and Bun B, a video was played on a big screen of Kendrick Lamar, 2 Chainz, Big Sean, Tory Lanez, Ciara, Ty Dolla $ign, Vic Mensa, Taylor Bennett, Travis Barker, Skip Bayless, Missy Elliott, Mannie Fresh, Khaled, and more all talking about Wayne and his influence on hip-hop.
Weezy walked on stage with his daughter Reginae Carter and his mother Jacida Carter to accept the "I Am Hip-Hop" award before then giving an amazing speech about "refuse":
"When I say: 'refuse,' there's a man in New Orleans, his name is Uncle Bob. He came into an apartment one day. He bust in the door, guns drawn-he saw nobody. He saw legs on the floor. It was my legs. He saw blood everywhere. Bunch of police hopped over me. He refused to do so. I never knew, I talked to him the other day, I never knew EMS was on the scene. He said EMS tried twice and they told him: 'there's nothing.' He refused to let that die."

"He told his somebody: 'come drive this car. Forget a ambulance.' He brought me to the hospital himself. He refused to wait, he kicked in the doors. He said: 'you get whatever you gotta do and you make sure this child make it.' Not only that, that day, Uncle Bob was a homicide detective. He was off on detail. He just heard the call and came. Not only did he refuse to sit, not only [didn't] he give me to the doctors and leave, he refused to leave, he stayed and made sure that I made it."
What's strange is that Mr. Carter made us to believe that Uncle Bob was dead on his "London Roads" song, so it's good to hear that he is alive. You can watch Tunechi's deep acceptance speech and see the video of other music artists praising Tune below!