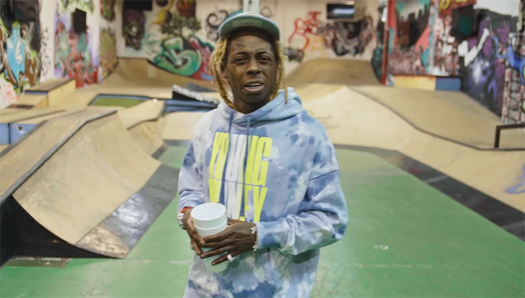 Lil Wayne takes part in another conversation with American Eagle that was filmed at his private indoor TRUKSTOP skate park in Miami back in November, 2019. For this interview, Wayne plays a game of "Never Have I Ever" with the clothing brand, which is something he has never played before.
During the game, Weezy discloses if he has ever sung in the shower, if he has ever had stitches, if he has ever sneaked into a party, if he has ever said "I love you" to someone and regretted it, if he has ever felt like an R&B singer, if he has ever lost an award that he cared about, if he has ever forgot words to songs while performing live, if he has ever watched a reality or true-crime show on TV, if he has ever been on two dates in 1 day, and if he has ever received the wrong advice.
The Best Rapper Alive also revealed he learned how to slide into DMs while overseas, he came up with the song "How To Love" after serenading someone, his favorite surprise a fan moment was appearing at a bar mitzvah, he would really love to go to Nigeria and Egypt, and told the story of the very first time that he rode a motorcycle. You can check out Tunechi play "Never Have I Ever" below, enjoy!