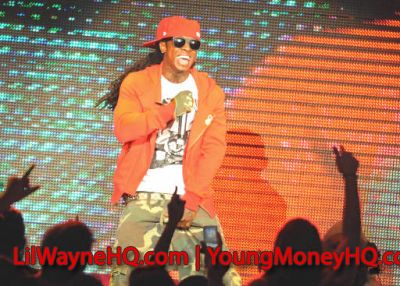 A lot of rain actually.

It didn't dampen attendance (or enthusiasm) one bit, as 17,000 demonstrative fans came out and were on their feet and dancing the entire night. Though the music reflected black culture, there were scant few African-Americans in the audience; it was mainly screaming, young, white girls.

New Orleans rapper Lil Wayne has been making waves with his melodic rock- infused rap, and though he's not blazing any new ground, he is putting an unmistakable stamp on it.

From his long dreadlocks to his tattooed tears, Wayne is not your cliché rapper. At SPAC, in red cap, camouflage pants and toothy grin, Wayne walked out to adoring high-pitched screams unlike you've ever heard here. A slick set used a high-tech screen and pyro like a big rock band.

"A Milli" was rap with a reggae lilt in the vocal delivery, albeit nasally and quite processed by electronic effects — there's a fine line between coloring the tone, and helping prop up a vocal. "Go DJ" just roared, making the floor rattle and the hairs on your arm stand up and vibrate.

Even though Lil Wayne could do no wrong for this enamored crowd, the show wasn't perfect. The giant video screen planted center stage was supposed to go up after the first few numbers, but remained stuck in place, obscuring the band, and limiting Wayne's movement.

The guitar-riff-driven "Prom Queen" was a slow grind whine about a heartbreaker, and the crowd went crazy. Soon rapper Birdman came out for some intense give and take; young Tyga got in his face as well.

For "Every Girl", all the openers and guests were on stage for a wicked finale; by then even the video screen complied and rose up to its proper position.
Shouts to TimesUnion and if you would like to see more pictures from the concert, click the more tag below:
Also, in case you missed it, we had the chance to release the Gudda Gudda "Guddaville" mixtape cover earlier, so you can check that out here and major shout outs to @Gudda1, @DeeJayIllWill and @RealDJRockstar!