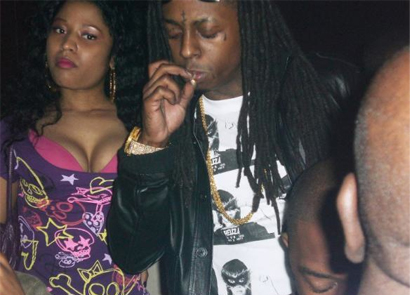 Lil Wayne's upcoming film Hurricane Season, which co-stars Forest Whitaker and Bow Wow, has reportedly run out of money and has been pushed back indefinitely.
Despite an all-star cast of actors, the movie's budget is reportedly in the red.
Our sources here in Hollywood are telling us that the studio that owns the marketing and distribution rights to Hurricane Season literally has run out of money and will not be able to release it anytime soon. The studio is the Weinstein Company, and it all makes sense since it's very public knowledge that they are going through big-time financial issues. Hurricane Season finished filming in mid 2008 and was set for a late 2008/early 2009 release date. Instead, it has been pushed back indefinitely. So what does this all mean? Well you won't be seeing Wayne playing a high school kid or Bow Wow playing a basketball player anytime soon. Either that or the producers try and buy back the rights so they can sell them to another studio — or it ends up going straight-to-DVD 50 Cent style.
Weezy recently reflected upon his on-screen time alongside Forest Whitaker in the film.
"I just finished shooting a movie with Forest too," he said in an interview. "He's a very serious guy. I just spoke to him before he went out there, and he was like, 'You did good in the movie.' Then he goes out there and sings that. I'm like, 'Wow.' Everything was wonderful and just doing it in New Orleans, it being a true story and just contributing in any kind of way, it was great for me."
Shout outs to SOHH