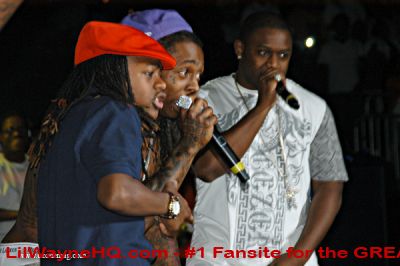 We are blessing y'all with no DJ version of the full "RoadBlock" song by Young Money which we posted two days ago tagged. It is Lil Wayne, Shanell, Mack Maine and T-Streets and it is still unknown whether or not this will be on the Young Money compilation album/mixtape. You might of seen a 'fake no DJ' version of this song going around where a website claims to have it as an exclusive… Well we can tell you that it was fake as the song was shorter and they removed our 'LilWayneHQ.com' tags, but the funniest thing was, they did it badly (for proof, listen around 4:26). To me, this is really sad and a big SMH at the websites who posted it.
Anyways, I know I said I would be dropping the full next week, but we are bringing it to you tonight instead for you to chill to on your evening. You can listen and download the track below:
Download: Rapidshare | zShare
Enjoy and don't forget who brought you this first!