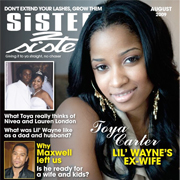 Lil Wayne's ex-wife Antonia Carter is on the cover of the latest issue of Sister 2 Sister magazine. She dishes the dirt on everything from how Wayne proposed to her and her true thoughts on Nivea and Lauren London.
Here are a few summaries and spoilers from the article:
• He proposed to her twice. The first time, she didnt accept while the second time she accepted after seeing that huge engagement ring… FYI: he was dating R&B singer Nivea when he proposed to Toya
• Nivea and Toya are really cool. She describes Nivea as loving and sweet as well as the only woman that she will allow Wayne to take around their daughter Reginae. She dished that Nivea often calls and text messages regularly to check on Toya and her daughter.
• She would not comment much on Lauren London, but from the tone of her responses, she does not like Ms. London… in fact, rumor has it that Wayne is waiting on a paternity test to see if the baby is even his.
Shouts to Evolution Of Dorianb and the S2S magazine is on stands now!
Do y'all think that Weezy is the father of Lauren's baby or not ❓ Leave a comment below 🙂