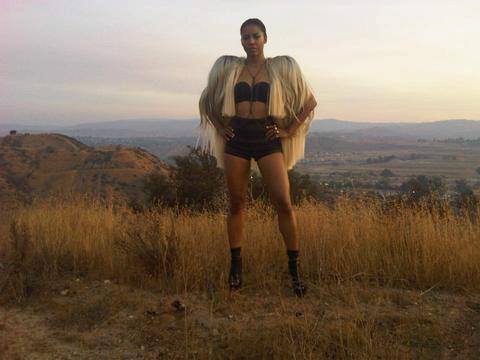 The life of a baby maker is hard work, so when Amerie and Lil Wayne linked to shoot her latest video it had to be done in Los Angeles so he could be close to baby mama no. 3, Lauren London. The 24-year-old actress and the rapper welcomed a son Saturday night at Los Angeles' Cedar Sinai Hospital.
"[When] we were doing the video they were 'we have to figure it out because nature might take its course," she told The BoomBox. "We were like 'lets go to where nature might take its course [Los Angeles] so we can get a pick up shot in case he gets the call." The video, which was shot earlier this month, is for the single 'Heard Em All,' off her upcoming album.
"He's awesome," she said of working with Wayne. "He's always really, really nice. The first time I met him we were doing this event together and we were sitting in the stands. Our handlers were transporting us in the building or something, I just remember thinking 'he's really down to earth. He's really cool.' I've liked him ever since he was in Cash Money, in like '97. He's always had a lot of charisma."
Amerie is gearing up for the release of her fourth album 'Love & War,' her first on Def Jam Records. "[I'm] very excited about [the new album]," she said. "I love my fans [and] I really hope they love this album. I feel like they will if they loved the first one and the second one."
Shouts to TheBoomBox, and I wonder if they are shooting the video with Wayne's verse as we last heard that Weezy was only making a cameo.