In the interview below, Young Money's Gudda Gudda speaks to LilWayneHQ.com about some of his upcoming projects including the YME compilation, a typical record session, his first raps Lil Wayne wrote for him, Guddaville, and much more.
We're here with Gudda! This is George Kiel on behalf of LilWayneHQ and NiceKicks.com, we thank you for taking the time to do this interview man.
All day, no problem brother.
What's going on with some upcoming projects you got? We know you just dropped Guddaville which was crazy. Is there any more upcoming things you got?
We got the Young Money Compilation coming out, no official date on it yet, but we're working on that right now. We pretty much done, we just touching up. I'mma just be dropping more music man, keep giving 'em new music as much as possible. The main focus right now is the Compilation and the Guddaville mixtape.
Is there any more news you can give us on the YM collaboration?
I mean pretty much, it's just Young Money. We got too much secretive shit we got going on, it's gonna be our present.
Yeah, we waiting on that man.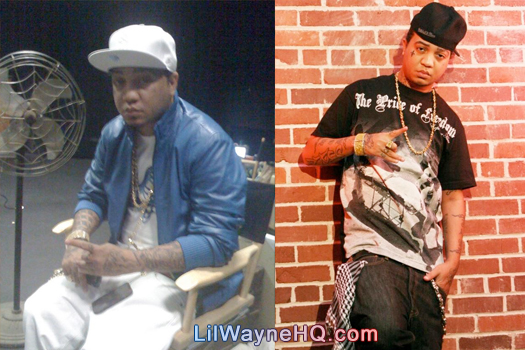 So do you have any other projects that your featured on coming up? Because we saw that you did a song with Essay Potna, and one with Spark Dawg. We see you in the Dallas real hard, so you got any other things featured?
I've been doing features for a few different people. I'm trying to get something together with Gucci Mane right now and I just did a joint for Beanie Sigel the other night man, that shit is crazy. Yeah, a few other things I don't wanna speak on cause I don't know if it's a go yet, but I'm working though.
Do you know if your going to release an album in the future?
Yeah of course, that's what I do this for. Probably some time in the next year, I ain't got an album coming out in the next few months or nothing. First thing first YM Compilation, then your probably gonna get a Drake album, then you probably go anywhere from Nicki Minaj to whoever you know what I mean. But I should be around the third slot, so I can't really speak on that til probably next year… your gonna get a gang of mixtapes from me though!
That's wassup, we be waiting on that.
So do you think this upcoming Young Money "Bed Rock" single will be a bigger hit than "Every Girl"?
Shit I hope so. I think it got potential
Do you think you had a better verse on "Every Girl" or "Bed Rock"?
I had fun doing both of those songs. I look at those verses like they are definitely verses that I ain't tryna spit on. I ain't looking at none of them verses like 'ight this one better than that one', cause I wasn't even trying to spit on them, like I was just having fun doing them songs. Those songs are like 'feel good music', it's something you have fun doing, it ain't something you tryna compete on. I like both of those verses, but no favorite.
A lot of people have been e-mailing me and asking me about a Young Money clothing line. Do you and Young Money have any plans to release one?
Nah, not as of right now that I know of. No one said nothing about that.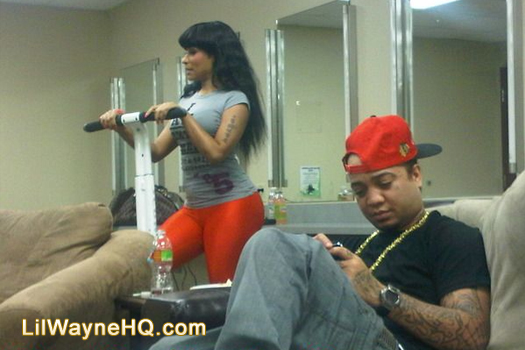 What's been the biggest difference from rapping with Wayne during the Sqad Up days and rapping with him now during the Young Money days?
Shit, just watching him grow as a artist, just getting better and better. I was right there with him when he was writing raps, I watched him stop writing raps just doing it off the top of the head. I just got see him grow over the years, probably the best thing I got to see him do.
Lil Wayne not only grew as an artist, because you grew too. We was following you back then when you was saying stuff like "I don't know why they call it lil' light of mine, cause it's like I dim that".
Yeah, that's that throwback huh.
Yeah, and that Gudda Gudda and Weezy.
Oh yeah you going all the way back.
Yeah, we going back over here.
That's wassup, I appreciate that support.
So how does a typical recording session go for you? Do you just write after hearing the beat or do you go in the booth and just spit whatever you want?
I write so much material during the day, it depends on how the beat makes you feel. I got a ton of raps in my phone, so when I hear the beat and that beat makes me think of one of them raps in my phone, I automatically pop up in my head like 'Oh, that rap will fit good on this real good' or if I hear the beat and I feel I need to put something new on it, I automatically just start writing right there and then on the spot. Different ways, there is no certain way, however I feel the best way to get it done is if it's me going to a rap I wrote on my phone earlier that day or a rap I wrote earlier that week. I just get it done best way possible.
Speaking of your raps, we read a recent interview where Wayne said that he wrote your first raps. Do you remember what they where?
I really don't on some real shit, it was so long ago man. That shit was like when we where young, I forgot, I forgot them raps. I don't even think I recorded them, they where that old. It was more like him show me how to format a verse and how to put a verse together, how to format words, he was teaching me that part.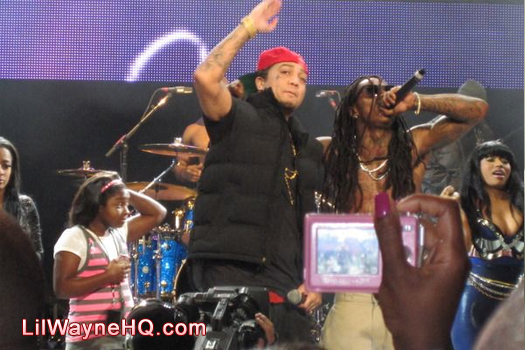 What do you do in your spare time Gudda? We see you do a bit of Tweeting sometimes, what else you do?
I just chill man. When I get time off I just chill with my kids. I don't club a lot, none of that. Studio that's the main thing, and family time.
We hear you don't be in the clubs or nothing unless you get paid to be there, y'all stay in the studio?
Yeah, basically.
I know you said Gucci Mane earlier, but who else in the music game would you like to collaborate with that you haven't done so with yet?
Shit, I got a few people. Pretty much every artist that I wanna work with I already started speaking to them about working together. There was Jeezy, the Gucci situation… pretty much all my favorites that I listen to. Oh Kiss of course, Jadakiss.
We heard there could be a possible Sqad Up song on Guddaville, could there be a possible Sqad Up reunion some time soon?
I can't speak on that right now.
What's the deal with the "Amazing Love" and "Lethal Injection" tracks that you did for Wayne, could they be on Rebirth?
They might be, I dunno since they leaked… I dunno if he gonna use them or not, but they might be.
What is your favorite song off Guddaville? We have a few favorites over here, but we tryna see if they match to what you think is a favorite?
I like the "Intro" and the "Outro", they my two favorites, and the joint with Nicki and Short Dawg "Always Love You" – I like that one too. Shit I like a lot of them, "Getting To The Money"… I made sure that when I put this tape together I enjoyed every song, it wasn't more like he putting songs on there just cause I got them. I made sure every song on the tape I liked. Sometimes as artists as we record songs we might not like them, but the people might like it… I didn't go with that, I had to enjoy the song to put it on the tape.
It's really like an album, because you used a lot of original beats on there so you could really classify that as an album.
Uh umm, it was my first time putting out a project too. So I wanted to make sure its hot, and I didn't want to do the normal and just rap over other people's beats. I just wanted to make it a nice project so people can respect the work more than anything.
That mean we can expect that Guddaville 2 to surface some time soon right?
Yeah, I'm working on that. I don't have a date or anything but I am working on it.
Thanks for your time Gudda, we appreciate you giving us the chance to interview you. Everyone at Lil Wayne HQ and Nice Kicks would like to wish you the best of luck in the future man.
I appreciate it, likewise, same to you.
We would just like to give a few shout outs: George Kiel from NiceKicks.com for doing the interview, Greg Gates and DJ Ill Will for setting up the interview, Fredd Martins for editing the audio, and of course Gudda Gudda! If you missed Gudda's "Guddaville" mixtape, you can download a free copy here.