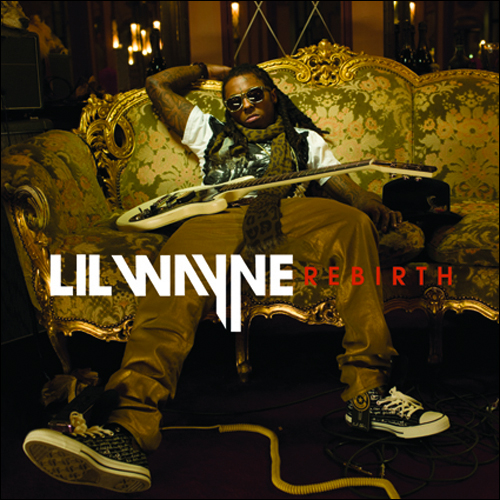 Earlier this week some lame released a fake Rebirth tracklisting sending it out but now we have the real thing. As you can see this will include twelve tracks from the Best Rapper Rocker Alive, two on the tracklist are out already so that means ten new Weezy Rock songs. I know Wayne gets alot of shit for doing an album like this but if any of his songs are like the Kevin Rudolf leak In Your Face then this will be something worth checking out… speaking of checking out take a look at track number eight, hope it's as dope as it seems. Remember Wayne's album Rebirth hits stores on December 15th 21st on Cash Money along with the YM album We Are Young Money. Fuck that fake tracklisting people were posting and take a look at the real thing via Amazon.
I agree exactly with what Tha Cartel said above even though I am 99% sure that this is not the final tracklisting. You can see the 'official' tracklist below:

1. American Star (Feat Shanell)
2. Prom Queen (Feat Shanell)
3. Ground Zero
4. Da Da Da
5. Paradice
6. Get A Life
7. On Fire
8. Drop The World (Feat Eminem)
9. Runnin' (Feat Shanell)
10. One Way Trip (Feat Kevin Rudolf)
11. Knockout (Feat Nicki Minaj)
12. The Price Is Wrong

I also don't understand why "Hot Revolver" and "Fix My Hat" is not on here, why "Ground Zero" doesn't feature Tyga, and why there are no songs featuring Drake, Travis Barker, Lenny Kravitz and Fall Out Boy… Anyways we will see soon enough whether it's the real tracklisting or not.
Oh, and if track #8 is real, I really hope it's the next single Cool & Dre were speaking about 😛