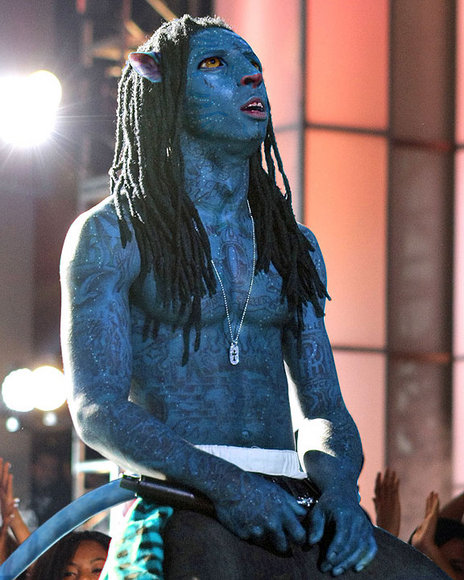 Lil Wayne as an Avatar
Check out this interesting article Rolling Stone Magazine did on Lil Wayne from their latest issue, which also has Weezy on the front cover. After the article, you can also read about the first week sales estimate for Wayne's Rebirth album.
"I am not like you," raps Lil Wayne, "I am a Martian." The man has a point.

A diamond-toothed multimillionaire — who lost his virginity and survived a gunshot chest wound at age 11, became a father and a rap star at age 15, drove an Internet-wide blitz to genre-spanning superstardom by age 24, and was the first rapper name dropped by our newly elected president at age 26 — probably is not, by most standards, like you.

Is he a Martian? Maybe.

Next Tuesday Lil Wayne will enter New York's Rikers Island to begin serving a 12-month sentence for weapons possession and we have a few indications for how this story usually goes. If you're Lil' Kim, you go in, release a critically acclaimed CD you can't promote, and wind up on Dancing With the Stars. If you're Shyne, you go in, convert to Judaism, come out a changed man, and get deported to Belize. If you're T.I., you enter and leave jail with your career still breathing, and show signs you just might get back on course. Or if you're Tupac — third behind Biggie and Jay-Z on Lil Wayne's list of top-three MCs — you become the first inmate to top the Billboard Top 200, get bailed out by Suge Knight in exchange for signing to Death Row Records, and uphold that label's gangsta ethos for the full 11 months until you're shot to death.

But to say the least, Lil Wayne does things a bit differently. Case in point: This Sunday, two days before he goes to jail, Lil Wayne plans to spend one of his last nights of freedom watching the New Orleans Saints take on the Indianapolis Colts in the Super Bowl. On a recent song he rapped, "Born in New Orleans, raised in New Orleans, I will forever remain faithful to New Orleans." But that doesn't mean he'll be rooting for the home team.

"Even though he's from the City, he's a true sports fan," explains Young Money president Mack Maine. "He's like a scientist about that. He has ESPN tattooed on his leg. I love sports, but I'm for my home team. Wayne, he's different." Apparently so. In addition to being a baseball fan, soccer fan, golf fan, tennis fan, car-racing fan and horse-racing fan, he is also possibly the only rapper alive who's a fan of the Boston Bruins.

Could he be an alien after all? Sometime after Dwayne Carter turned 12, the ghetto whiz kid shifted his major from the curriculum taught at McMain Secondary to the hustle being practiced by local rapper Bryan "Birdman" Williams, who decided to mentor Lil Wayne after he'd left a convincing rap on his answering machine, and later signed him to his and his brother's local label Cash Money. As the youngest member of the label's gangsta 'NSync, the Hot Boys, Lil Wayne applied such lyrical impressionism to the crew's stock rims-and-grills material that he ended up coining a linguistic oddity known as an "ideophone": a word meant to convey a visual effect through an imaginary sound. In this case, that of light bouncing — or "blinging," if you will — off precious gems or metals.

By the time "bling-bling" entered the Oxford English Dictionary in 2003, Lil Wayne had begun to channel that kind of imagination into one of the stranger and steeper career trajectories of recent music history. The Carter, as fans know, refers (at least partially) to a mythic drug house dedicated to the production and distribution of a wide range of street pharmaceuticals. Lil Wayne's genius lay partially in the production: the strange and various rap styles and flows he credits to an epiphany he had sometime in the early decade about the authenticity of his own voice.

"I mean, you're writing that down and I could read it," he said to me and pointed at my notebook. "So I feel that when I was writing it down and anyone could read it, it was like, 'Is it real?' I mean, anybody could be writing it down and I could just be reading it. It's only real if it's coming from me. I felt when I was reading it, it took some of my animation out of it." This prompted him to stop writing lyrics and turn his recorded output into the long surrealist oral epic he is now spinning and releasing in verse-, song-, or album-length chapters to jut about every recorded-music outlet available.

The other, equally significant part of the Lil Wayne mojo is in the distribution, the star vehicle he created for delivery. Like many who came into their powers in the early '00s, Lil Wayne immediately grasped how the coming era would reward crazy-bold creative output and savvy branding. Not only did he make himself into the remorseless releasing machine that put out mixtape after mixtape and guest-spot after guest-spot, but he set up a three-part branding operation that involved the tagline "the best rapper alive" and culminated with 2008's Tha Carter III, whose cover art featured a portrait of the artist as toddler, just like the covers of breakthrough albums by Biggie Smalls and Nas. Lil Waye is a witty, captivating, wildly inventive rapper and lyricist, but by 2008 he was the world's best rapper by virtue of the same corporate tautology Bill Gates used when he said, "Everyone uses Microsoft because everyone uses Microsoft." He was the leading brand.

In addition to the countless megabytes of music he has dedicated to his story, Lil Wayne has made no small use of his own flesh, covering himself pretty much head-to-toe with tattoos. The oldest reads "In memory of Rabbit" — done right after his stepfather and lone male role model was murdered — with the subtitle "It's up to me." He got it at 14. The newest, at least when I met him, were some stars that he'd had filled in, right under the word "Misunderstood." He has a woman do his tattoos now and he's recently moved on tattooing nether regions where no man has gone before.

Lil Wayne figures his most painful tattoo was either the one on his knuckles or the ones on his feet. While the one on his left foot is a rap-generic Bible passage ("Yea, thou I walk through the valley of the shadow of death…"), the right foot's is a reproduction of the painting Crosses by Andy Warhol, who is a pretty outside-the-box touchstone for a self-described gangsta.

Lil Wayne got into him through Basquiat, through studying how the Haitian New York City transplant found his way into the global art scene and the history books. But there's no doubt he shares at least some of the chilly, high-concept, media-manipulating vision of the man who coined the term "superstar" — which Lil Wayne prefers to rap star — and once advised his famous friends on how to handle interviews. "Just do what I do. Lie!"

At the end of 2009, the dreadlock-framed, tattoo-lined icon of Lil Wayne had become an online avatar of urban music, if not youth culture itself, while the flesh-and-blood version receded further and further into his own private world, his real-life Carter. Lil Wayne already has, in some strange palpable way, moved into the floating cultural ether where, as his label hopes, his vocal and visual likeness will keep on appearing, on new mixtapes or in new rap videos, often and regularly enough that people just might not notice he's been away.

A few weeks ago, the media jumped on a newly leaked Lil Wayne track that was based on a sample of a Tupac interview, one in which the recent Death Row signee vowed to keep packing gats, getting drunk and otherwise destroying himself " 'cause that's what niggas do." As the beat kicks in, Tupac's voice gets sliced, diced, and doubled into a vocal collage Lil Wayne then embroiders with his own declarations of drank-chugging, gat-packing realness. Under the circumstances, people took this new song to be Lil Wayne's statement of defiance prior to entering the pen — an interpretation that loses credibility when you consider the chilly distance implied in that chopped-up vocal treatment. And the fact Wayne recorded it three years ago for some other single by some artist he can't remember.

Most of us are like Tupac in that way, we do things because that's what people do. Lil Wayne seems bent on doing otherwise. He raps that he's a monster or a goblin. He charges around his videos with bouncing braids and metal fangs like some demon from a Russian folk tale. He claims he's an alien, he's inhuman. But while I didn't come close to probing his deepest secrets in the time I spent with Lil Wayne, I can attest to one thing. He occupies three dimensions. He actually is real. And that this fact is quite important to him.

When we were talking, I mentioned the post-mortem Tupac phenomenon, how many releases came out after his death and how alive he remains to his fans. "You know what that comes from?" Wayne said. "That comes from rapping from there." He pointing his index and middle finger straight into his wife-beater-covered sternum, not far from where shards of a nine-millimeter bullet still sit. "If you do that, you're not talking about time, you're not talking about trends, you're not talking about what's hot, what's new. You're talking about something," he said. "And if you're always talking about something, something always has a voice. It's because that song — the words or whatever — still has value in this time or day. And that's what I try to do."

Lil Wayne may not be an alien, but he does appear to be one of those all too rare human beings who is leading an improvisational life. When someone is about to unveil their career masterpiece and learns that the pressing plant leaked it, it's all over the Internet, their surprise is blown, and their bottom line will suffer, he might reasonably have one of two responses. They could get furious, sue the plant, slap every online poster with an injunction, and sit full of rage for days. Or they could jump in, add more material, try to make something better, send it off into the world, and move on.

That'st he non-alien secret to Lil Wayne's success, the one he'll likely bring with him to a jail sentence at the peak of his career, for a charge he believes is false, for which he'll spend eight or more of the most crucial months of his life in state custody. A lot of people would go to a pretty dark place about this. A month ago, I asked Wayne if he had.

"I'm prepared for any situation," he said. "I've never been afraid of anything but God. I look at it as an experience. I say I'm looking forward to it." I actually believed him. When I asked him to share the very last rhyme he'd laid down, he thought about it for a second. "It's a chorus," he said, then recited it slowly, from memory. "Steppin' on flowers, foot on the pedal. Good wasn't home, so I settled for Better. I'm on my way to Get-it, but Get-it got shot. So I guess I gotta work with the little bit I got."

So. Biggest rapper alive? At five-six he's not even in the running. Baddest rapper alive? 50 Cent took more bullets. Richest rapper alive? Jay-Z has a better-positioned portfolio. Best? Better check the instant replay of Eminem on Lil Wayne's new "Drop the World."

But greatest? As in most expansive? As in showing the most heart? As in the multitude-containing, life-embracing, rolling-with-the-punches sense of the greatest? The sense we realized Muhammad Ali was using only years after he had defeated his human foes? That, Lil Wayne just might be. In the next year, he's going to show us.
According to HitsDailyDouble, Lil Wayne's Rebirth album is looking to sell between 140k – 150k copies:
Cash Money/Universal Motown's Lil Wayne long-awaited rock album, Rebirth, hit yesterday, and looks on track for between 140-150k in first-week sales as he prepares to be imprisoned for a year on gun possession charges.