As you all know, Lil Wayne has been sentenced to one year in prison for a gun possession charge… but if Wayne stays on good behavior while inside, he could be out later this year on November 4th. In this post, you can see plenty of pictures of Weezy entering the Manhattan courthouse, and Weezy inside the courtroom. You can also see a crazy fan with Lil Wayne tatted on her who showed up outside the courthouse, another video of Tune entering the building (chaos with all the fans and paparazzi), DJ Khaled wearing a 'FREE LIL WAYNE' t-shirt, and other celebs speaking about Wayne's jail sentence. FREE WEEZY ❗

Young Jeezy, LeBron James, Lloyd Banks, Diddy, and B.G. all speak about Lil Wayne going to jail in the video above. Shouts to MTV, and you can listen to The Game speaking about Weezy heading to jail here.
httpv://www.youtube.com/watch?v=S3H4LGgoHvE
Another video of Lil Wayne entering the Manhattan courthouse.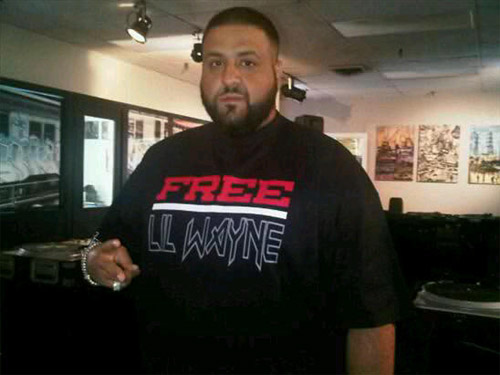 DJ Khaled supporting Weezy by wearing a "Free Lil Wayne" t-shirt.