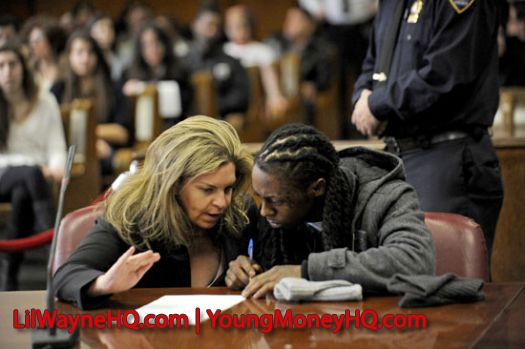 A former Rikers guard says she was canned after a bad rap – a claim she tried to sneak a peek at Lil Wayne in lockup.

Amelia Negron, who is preparing a federal suit against the city, said union higherups forced her to falsely confess she was trying to star-gawk.

"I don't even like rap," said Negron, 33.

"I like rock and alternative music and didn't know much about him when they said I tried to see him. None of it's true."

What really happened March 10 is that she popped her head into the unit where the performer was being held to see a colleague, Negron said.

"The door to the area was unlocked, and so I went in to say hello, and that officer said, 'Hey, you can't be here. We've got a celeb here.' I said, 'Okay, no problem,' turned around and left," Negron said.

She said that, after the short exchange, her superiors claimed she was trying to cozy up to Weezy.

"We did nothing wrong, but we were threatened with criminal charges, transfers, suspensions," she said.

Correction Officers' Benevolent Association President Norman Seabrook told her he would take care of things if she just admitted she was spying on the "Lollipop" singer, Negron claimed.

Seabrook said that's a lie.

"I wasn't the one who went into an unauthorized area. That wasn't me; that was her," he said. "The only reason I got involved is because they were going to suspend her."

On April 19, the city Department of Correction fired Negron, claiming she had missed too many days of work.

Negron, who was hired in 2008, contends the missed days were for an injury she suffered at the firing range, when she was struck in the hand and chest by another officer's gunfire.

"I was injured, eventually had to have surgery on my left hand, and they knew that all along," she said.

But sources said Negron violated sick leave policy four times and had been out for 91 days during her short tenure.

Negron plans to file a federal suit, claiming she was the victim of discrimination and harassment.

A Correction Department spokesman noted Negron was a probationary employee and said her firing was "entirely appropriate." – NYDailyNews
This is some messed up shit if it's true about an officer getting fired for trying to get a sneak peek of Weezy, lol.