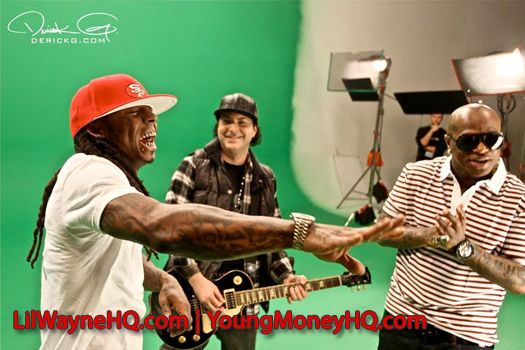 As we previously reported, the mastered version of "Spit In Your Face" will be on Kevin's To The Sky album dropping on June 15th. So this is now a Kevin Rudolf featuring Lil Wayne track even though Wayne still has 3 verses. In fact, the only difference with the mastered version is that they have added autotune to the record, which some of you may prefer or hate. Anyways, you can stream/download the song below and read what Kevin says about how Tune is doing in jail after the jump.
US Mag: How did working with Lil Wayne in particular so closely inform your rock sound?

KR: I'm not a straight rock artist, pop artist, or hip-hop artist. I'm really a fusion of all those things. So to me, the collaboration is just natural. It's friends collaborating with friends really. I think people who like hip-hop and are fans of Wayne are going to listen to certain records that they're on, so it broadens my audience and maybe my fans will be more interested in what they're doing and we all kind of share fans.

US Mag: Have you talked to him since he has been in prison?

KR: I haven't, but I have talked to people who have talked to him every day and they say he's doing really well and feeling good, he's adjusted. I'm sure he'll come out stronger than ever.
Shouts to US Magazine