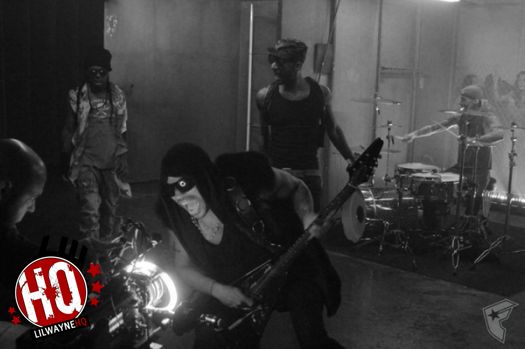 On set of Swizz Beatz' "Rock N Roll" video shoot with Lil Wayne and Lenny Kravitz.
The homie Matt, who used to help me with blog posts on this site, interviewed producer Develop recently for RapDose. They speak on an upcoming project Develop has coming out with Lil Wayne, working with Weezy after he was released from Rikers Island, a dope track they both did that might end up being the intro on Tha Carter IV, Rebirth, and plenty more. Hit the jump to read the interview!
Who's your favorite artist(s) to work with?
Obviously Wayne. Watching him record his shit, go in and do what he does. He just keeps on going. Even when he's tired, he keeps on rockin' out.

You've got a project coming out soon called The Carter Report, right?
The Carter Report is all the songs I've done with Weezy, all the way back to 2004. The Carter Era is all of the songs and The Carter Report is the instrumentals of all the songs.

Is there going to be anything new or is it going to be music we've heard before?
To a certain extent, it's all been released but it's not been hugely promoted and whatnot. So, I think this is good it's all gonna be on one CD. All of these songs have been scattered from all different time periods. There are probably songs on there that people that are Weezy fans now that weren't listening to him three years ago will hear this and be like "Oh shit, I've never heard this." It's stuff from 2004, so that's like seven years ago.

When will that be released?
I'm working on it for this month. I'm waiting on a couple songs that I don't have without the DJ on them. You already know how difficult they can be to find just because no matter where Wayne's going, he's always in the studio with the engineer, which is a friend of mine. And back then, he was trading out all these songs through these hard drives. There were multiple, multiple just crazy hard drives filled with shit. So it's going to be a little time consuming. That's what I'm trying to work out now.

I'm trying to contemplate if I should drop an instrumental first, but I don't know how many fans are gonna want to just hear the music. The instrumentals, I'm dropping more for the rappers that never got an opportunity to get the instrumentals. You know, for the kids on the come-up that want the music, so that they can rap on these kinds of records. I'd like to drop the song and the instrumental together. I don't know.

We know you've worked a lot with Lil Wayne lately; whom else have you been working with?
I've got Tyga. Cory I've known for a while. Him and I supposed to be going through some stuff. I've got Juelz; he's got a couple of records I heard that are jumpin' off. All I've been doing is chilling, working. I like to create. That's all I do is just create. But I've got some cool shit I'm working on that's pop, more dance, top 40 type shit other than rap.

You and Wayne did a record together almost right after his release. I remember you telling me it could be Tha Carter IV material.
Yeah, yeah, yeah!

Other than that, what else can you tell us about that record?
It's fuckin' epic! It's crazy! It starts one way and once the hook comes in, it just goes somewhere else. It could definitely fool people during the first twenty-four bars.

Do you think it's single material?
It depends on… I don't know, man. Me, I'm not one of those producers that make records, trying to make it a single. I don't shift that way when I'm working on music. I just approach it in a way as to "how can it be different?" So, format-wise, it could work. I think it could definitely be something. Like I said, it's definitely gonna be crazy. And the approach Wayne took when recording it was different than anything that's worked before. He was using bars that he had written in Riker's. With that said, it took a little more time than other records that we had done.

Is it for sure Tha Carter IV or is it a possibility?
From my sources and everyone that I've talked to, it's for sure Tha Carter IV. I'm hoping and I'm feeling that it could be the intro.

I love those kinds of records, that "intro" feel. I love that.
Yeah man! It's epic! The beat's hard and heavy, then it just explodes.

Everyone wants to know; how's Tha Carter IV sounding right now?
Shit, from what I've heard, he's definitely on some next-level shit. I think everyone kinda hears it. I think he'll definitely stay consistent with that, if not more appealing.

I know he's saving some records from before he was incarcerated. Did you produce any of them?
I'm not sure which ones those are. We literally have about fifteen records stashed away, some even from that Rebirth shit, but they weren't full rock. They were more like rock-influenced but still hip-hop so that they could still be used. I think two of them had Drake on them, one of them had Sean Kingston on it. The others were just crazy. I'm not too sure though. He works until that very last day. Even after they choose Tha Carter IV. He's been workin'.

Did you have any production on Rebirth?
No, I didn't. Like I said, I had about nine records, maybe even a little less, like seven records that we did for that. They're still crazy.

I love Rebirth, but I heard a lot of bad things about it.
Yeah, it's interesting. People will probably appreciate it more in about a year from now. He was trying to have fun.

Did you produce "What's Wrong With Them" specifically for Wayne knowing Nicki Minaj would be featured on it, or was it a beat you had already made before Wayne asked you for production?
That record is funny, actually, because I was in Miami. I went to check up on Wayne and he played my some things. He had asked me if I had any beats for him and I said no. It just felt totally wrong. It was the first time I had ever said "No, I don't have anything for you." So, what I did was, before I even got back to New York from Miami, I'd already booked a flight for me to go back to Miami while I was still in there. About three days later, four days later, I had flew to Miami, literally got picked up from the airport, taken to my studio and made that beat that night. That was for Wayne. That was definitely for Wayne. I didn't think he was gonna get on it, I had no idea. As far as hooks, I thought it was going to be all Wayne. But I went back to the studio that night and made that record. About three days later, I went back to Miami, I took him that beat and, yeah.

What have you and Wayne done together since he was released from prison and what can we expect?
We had that one record that I told you about, that first record that he'd done. There's a couple 'nother records that he was feeling. I'm gonna try to find out if he's recorded over them. I'm probably going to see him in LA. I don't know which records he's done. So far, there's one record that we'd spent two days on.

What's the title of the track you and Wayne recorded after his release?
Damn, I don't know what they're going with or what theme is going to be. There are a couple of options. I don't know if it's "Weezy's Home" or not. (He goes on to clarify that "Wayne's World" and this record are not the same) I can find out what they're going with, though.