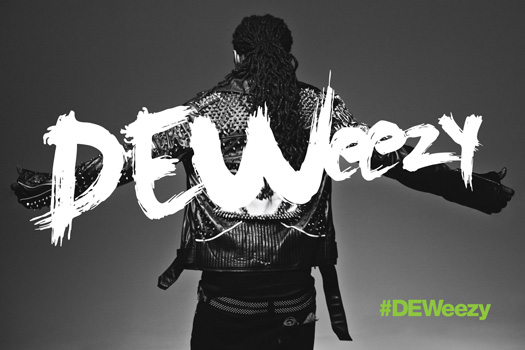 Leading artist development and management firm, Blueprint Group, have announced a new partnership between Lil Wayne and Mountain Dew (a drink company owned by PepsiCo) called the "DEWeezy" campaign. The sponsorship is set to launch today at the 2012 South By Southwest music festival in Austin, Texas. The campaign titled "DEWeezy" is made up from Mountain Dew (DEW) and Wayne's nickname (Weezy). You can read the official statement from the Blueprint Group and Cortez Bryant below, plus view some photos of "DEWeezy" advertisements around towns in New York City.
New York, NY – March 9, 2012 – Blueprint Group, the leading artist development and management company recently formed through the merge of Gee Roberson's Hip Hop Since 1978 and Cortez Bryant's Bryant Management, today announced a first-of-its-kind multi-faceted partnership for their artist Lil Wayne with Mountain Dew.

Lil Wayne and Mountain Dew will team up for a synergistic, advertising partnership entitled DEWeezy, complete with advertisements, appearances and the building of a skate park in Lil Wayne's hometown of New Orleans. While full details will be announced at this year's South by Southwest (SXSW) Music Conference and Festival, the DEWeezy campaign has already begun buzzing on social media sites with images of the iconic artist appearing in the form of street art and painted murals. Overseen by Blueprint Group and produced by GLU Agency, the campaign, driven by social responsibility and giving back, emphasizes the importance of successful private-public partnerships. Blueprint Group worked closely with Glu Agency to expand the partnership into a full scale campaign, anchored in Lil Wayne's touring presence and outside interests including skateboarding and the rebuilding of New Orleans.

"We are excited to partner Lil Wayne's brand with a brand like Mountain Dew, a household name. Representatives from the Glu Agency approached us with the idea over a year ago, which was surprising to us because corporate America is often very conservative and Lil Wayne is a unique artist," says Cortez Bryant, co-CEO of Blueprint Group. "However by showing interest in Lil Wayne, both Mountain Dew and the Glu Agency showed us they were forward thinking and valued the impact that Lil Wayne's brand has had and will continue to have on global pop culture".

"Lil Wayne and his forward thinking manager, Cortez Bryant of Blueprint Group, were an obvious choice for us," says Derek Jackson, Founder & CEO of Glu Agency. "Mountain Dew is an iconic, cutting edge lifestyle brand and we could not think of a better merger than with a superstar such as Lil Wayne who is constantly pushing the envelope through his music and celebrity.  I was really excited that Brett O'Brien, Vice President Marketing, Mountain Dew and Flavors, had the foresight and vision to make this amazing collaboration come to fruition.  What we have created is not your average advertising campaign, it's all based around cultural iconics. We don't build brands, we build icons.  Additionally, philanthropic and social responsibility is the unwavering core of this vision."

The announcement of this agreement comes on the heels of what can only be described as a banner year for the hip hop icon. In 2011, Lil Wayne was recognized as a global touring force with his blockbuster tour I Am Still Music Tour coming to a triumphant close after 78 shows across Africa, Australia and North America. The three continent amphitheatre and arena tour ultimately grossed $47million USD making Lil Wayne one of music's top earning touring acts.

Blueprint Group has long been celebrated for their creative branding initiatives, having aligned their artists with brands such as but not limited to AT&T, Belvedere, Blackberry, Def Jam Rap Star, Gatorade, Louis Vuitton, NBA, Nike, Sprite and T-Mobile as well as their involvement with groundbreaking tours, which included the Summer 2009 blockbuster Young Money Presents: America's Most Wanted Music Festival and Lil Wayne's 2011 I Am Still Music Tour.

Upcoming initiatives for Blueprint Group, beyond the DEWeezy Campaign include prepping the sophomore full length album from Grammy Award nominee Nicki Minaj; the upcoming full length debut album from Lil Twist; developing a full scale strategy, along with management partner Jason Geter, to help reintroduce Grammy Award winner T.I.'s brand to the global market place and seeing out Drake's Club Paradise Tour across the US and into Europe.