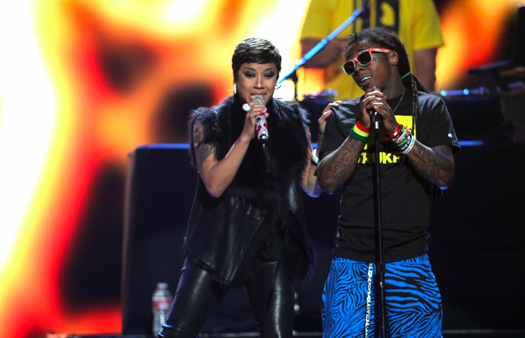 Check out some photos in this post of Lil Wayne performing live at the MGM Grand Arena for the 2012 iHeartRadio Music Festival in Las Vegas, Nevada on September 21st. Keyshia Cole and Young Money's Shanell also joined Tunechi on stage to perform "Enough Of No Love" and "Lollipop".
Weezy's style for the night was a TRUKFIT hat, a pair of Thrasher sunglasses, a TRUKFIT t-shirt, a Jamaican sweat band, lots of bracelets, custom blue and black animal print TRUKFIT shorts, and a pair of pink "Skytop III" SUPRAs.
You can view lots more pics after the jump below, courtesy of Andrew Swartz and iHeartRadio.