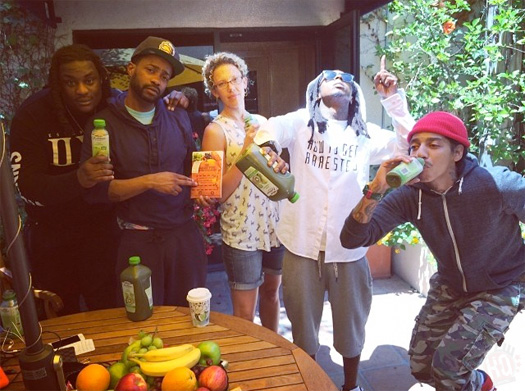 Every Body Thrive's very own Karlee Fain, who is Lil Wayne's personal health therapist, has released a new book called "The Grocery Store Adventure Guide".
Who would have thought that I'd be bringing the lettuce wrap to gangsta rap, I love these guys! I appreciate Wayne so much, you'll see a special message I wrote to him on the dedication page.
The book outlines 7 easy steps that you should follow when shopping at the grocery store to eliminate your food-related stress and live a fun and healthier lifestyle.
Weezy F Baby can be seen promoting the book in the picture above along with Karlee and his homies Marley G and DJ Scoob Doo, who is actually holding a copy of the book.
Click here to read more information about "The Grocery Store Adventure Guide", as well as read the first chapter for free and pre-order the book!