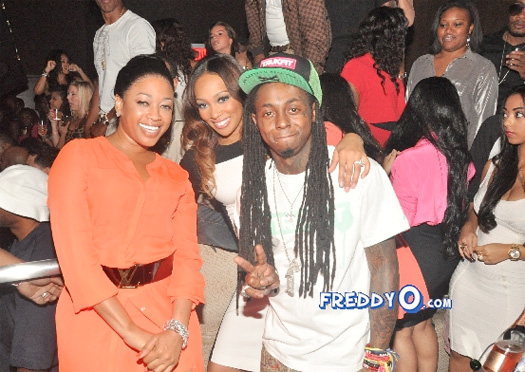 Trina stopped by Power 105.1's The Breakfast Club radio show recently to chat with DJ Envy, Charlamagne Tha God, and Angela Yee.
At the 11:15 and 18:15 marks of the interview, which you can watch below, Trina spoke on her relationship with Lil Wayne and why she didn't marry or have a baby with him.
If you didn't already know, Weezy and Trina were engaged just under 10 years ago and came close to having a baby, but Trina suffered a miscarriage. They also had their names tattooed on each other (Wayne has "Trina" on his ring finger and Trina has "Wayne" on her wrist).
Even though it didn't work out between Tunechi and Trina, she did explain in the interview after a game of "F, Marry, Kill" between Lil Wayne, French Montana and Kenyon Martin that her and Tune are "still friends to this day", their relationship "didn't end bad", he is a "great person", and she has "so much respect for him".
Thanks to Keeze for the heads up!