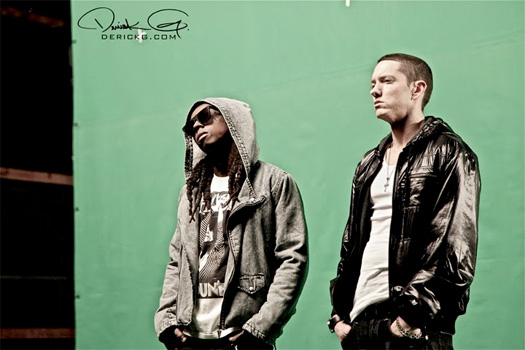 Eminem recently did an interview with The New York Times to promote the Southpaw movie as he worked on the official soundtrack for the film.
During their conversation, Em mentioned that he loves Lil Wayne and Drake's music, as well as that when Weezy releases a new song it makes his ears "perk up", because of the caliber that he is rhyming at.
You can read exactly what Eminem said about Tunechi after the jump below!
Are you plugged in with current rap music?
I try to stay up on everything that's out. I love [Lil] Wayne, Drake, Big Sean, Schoolboy Q. I love Kendrick [Lamar]. I just try to pay attention to what's out. Wayne puts out a new song, and my ears perk up. There are certain artists that make me do that just because of the caliber that they rhyme at — it's like candy to me. Kendrick, the way he puts albums together — front to back, they're like pieces of art. But hip-hop needs Drake, too. Hip-hop needs Big Sean. I feel like hip-hop is in a good place right now. There's this balance of things going on, and it feels like some of the best rappers are the most successful. Sometimes that's not the case.