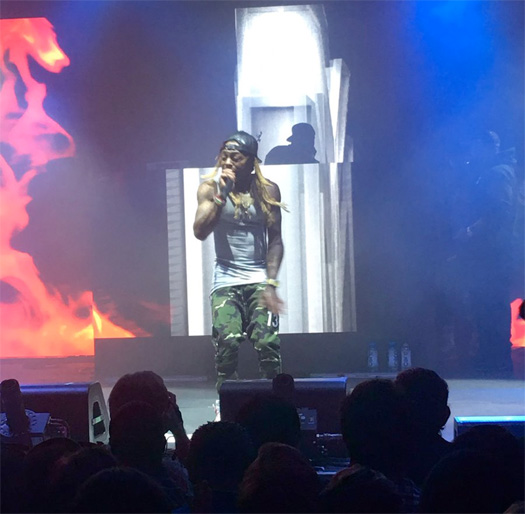 After headlining the 2016 Bud Light party convention at Silver Street Studios in Houston, Texas on August 13th, Lil Wayne chopped it up with The Knockturnal for a short interview.
Weezy shared his thoughts on current rap fans seeing an over-saturation in music releases, gave advice for young artists trying to get signed to a record label, and explained what it means for him to be performing at an event for America's most popular beer brand.
You can read Tunechi's answers after the jump below!
Being one of the rappers to really bring mixtape culture into the mainstream, what are your thoughts on what a lot of rap fans currently see as an over-saturation in music releases?
OVERSATURATION CAN BE GOOD. THE DIGITAL AGE IS GIVING THESE KIDS MORE ACCESS TO HAVE PLENTY OF DIFFERENT OPTIONS TO THE MUSIC THEY LOVE AT THEIR FINGER TIPS.

As a seasoned artist, someone who's experienced most the corners of the hip-hop world, what advice would you give to young artists who are looking to snag their first deal?
I WOULD TELL THEM TO KEEP GRINDIN. IF YOU BELIEVE IN YOURSELF DONT STOP! THIS GENERATION HAS PLENTY OF PLATFORMS TO DROP THEIR MUSIC THAT I DIDN'T HAVE. TAKE ADVANTAGE OF THEM!

Speak on partnering with Bud Light and what it means to be performing at their party convention?
BUD LIGHT IS A RESPECTABLE BRAND AND IT WAS AN HONOR TO PERFORM FOR THEIR EVENT. HOPE IT WILL BE THE FIRST OF MANY THINGS WE CAN DO TOGETHER.