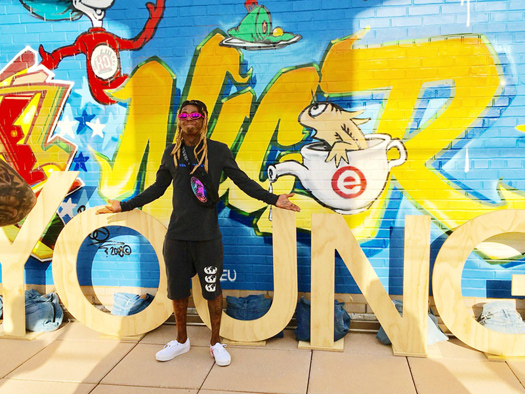 While promoting his new collection with clothing brand American Eagle on the rooftop of New Design High School in New York City on Monday (July 15th), Lil Wayne chopped it up with XXL for an interview.
During their conversation, which you can read below, Weezy spoke about his Young Money fashion collaboration with AE, working on new music in the studio with Lil Baby and Big Sean for his Funeral album, recording a song called "I Do It" with Lil Baby as a swap for swap verse, and what he likes about Lil Baby as a rapper.
Tunechi also talked about which producers he has worked with on Funeral, what he is doing different with this new album than on Tha Carter V, his upcoming "Old Town Road" remix with Lil Nas X, what advice he would give to Nas X, which female rappers are on his radar right now, his plans for Young Money, Nicki Minaj, his youngest son Neal aka Meatball being interested in music and sending him his own bars, and more!
XXL: Why did you choose to partner with American Eagle to introduce your Young Money brand to a new set of consumers?
Lil Wayne: First of all, they're like the everyday-person place, you know? I always thought my brand was the average, everyday-person brand. I'm not tryna go too high, not tryna go too low. I want my brand to be something that's in everybody's closet. Sort of like back then with the Members Only jacket, back in the days. Something like that. I look at American Eagle like they're also for the future and also for the youth. And the youth and the future. So for them to look at me as some sort of trendsetter or something like that, I was obliged.

A collaboration with American Eagle helps further align your Young Money brand with today's youth culture. Why is it important for you to have that connection with the youth?
Ah man, I have kids, first of all. And my music, it's always been fun music for the kids. I don't get too many grown-ups to bang my music like that, but the kids love me. So that's what it is.

Your Funeral album is coming soon. Who are some of the artists you're working with?
I've worked with a bunch of artists already. I don't want to give up the goods on too many. Lil Baby. I'm a big Lil Baby fan. So it was a swap type of thing. You send me a song, I send… that type of thing. But actually he demanded that he work with me. That's a new thing these days. Back in the days when I was doing it, there was no such thing as you send me your song. You had to be in the studio with that person. He demanded that. So I respected that. We got to do the session together. We was out here in New York, not long ago. Probably a month ago. It was him, I and Big Sean.

Awesome. So will all three of you guys be on the same song?
I don't know.

Do you have a song title for your collaboration with Lil Baby?
"I Do It."

And the producer for that song?
I don't know. He Lil Baby came with the beat.

What do you respect about Lil Baby as an artist?
I loved his voice at first and it kinda reminded me of me when I was younger. And then his melodies and stuff started getting at me. So that's what it was. And then I started actually listening to what he's saying and he talk about the struggle a lot and he's talking about some real stuff.

Who are some of the producers you're working with on Funeral?
A lotta LoopHoles. That's a guy they call LoopHoles. A lot of their music. Again, the usual suspects. Rio, Academics, Monsta Beatz, London On Da Track, people like that.

Is there anything you're doing a bit differently with this album in comparison to the last one you dropped, Tha Carter V?
With me, what the new thing is for me is actually trying to put out music that sounds like a little more like today's music. What that means for me is the difference is adding hooks. I forget about hooks. I forget 'em. Somebody gotta come in the booth and stop me from rapping, like, "This is where you stop it and add a hook."

A snippet of your remix of Lil Nas X's "Old Town Road" leaked to the internet on Monday. Is that an official remix?
They sent it to me and I did it as an official remix. I'm not sure if they was gonna use it.

You've had plenty of No. 1 songs in your career. Lil Nas X's "Old Town Road" is about to break the record for longest-running song at No. 1 on the Billboard Hot 100 with 16 weeks. He's just getting started. What advice would you give Lil Nas X on navigating the music business?
Stay focused. When you break that record, make sure it's not a record to you. Make sure you don't even realize it nor recognize it at all. Put that in your head that someone else broke that record and you want to break their record. Plain and simple. Because I can't even tell you if I was No. 1 on the charts because it never mattered. The only thing that ever should matter, bro, is your next song.

Are there any new female rappers on your radar right now?
There's a bunch of female rappers, all of the ones I hear I like. The City Girls. I live in Miami so I hear a lot of them. I like how they just say what they want, do what they want. They also remind me a lot of the old Miami music. Trina, a lot of that type of music. We miss that. Also Kash Doll. I like Kash Doll because she's spitting. She might play around on the song because the song is what it is, but when you catch her in her zone, she in her zone.

What are your plans for Young Money the label this year? Are there any new artists we should look out for?
The whole team. I don't know about new to your eyes or new to your ears as far as the social media thing. But other than that, the whole team is kinda new. Everybody coming out is gonna be like a new squad. You got Vice Versa, you got Hoodybaby, you got Jay Jones, you got Euro. And you already know the queen, that's her throne. Ms. Nicki Minaj. That's just her throne. She's not new, she's just the queen. She can do what she wants, when she wants, how she wants, when she wants.

Why do you think Nicki Minaj has been able to maintain longevity in her career?
She does her like I do me. She don't pay attention to what anybody else doing. She makes sure that she's being the best her every day. I told her to do that. She put the best foot forward and keep moving.

You mentioned that it's important for you to stay connected to the youth, especially since you have children. Have any of your children shown interest in rapping?
So they all have different interests in it in their way of being interested in it, but it's actually my youngest, Meatball. He's 9. He's the one who sends me his bars, he actually puts raps together.

Do you give him advice on his bars so far?
I do. I tell him certain ways he should say things. I don't tell him what to say, I tell him how to say it. He likes to make raps about whatever he's going through that day. He's got a bunch of songs about what he ate, you know, about playing in his room.