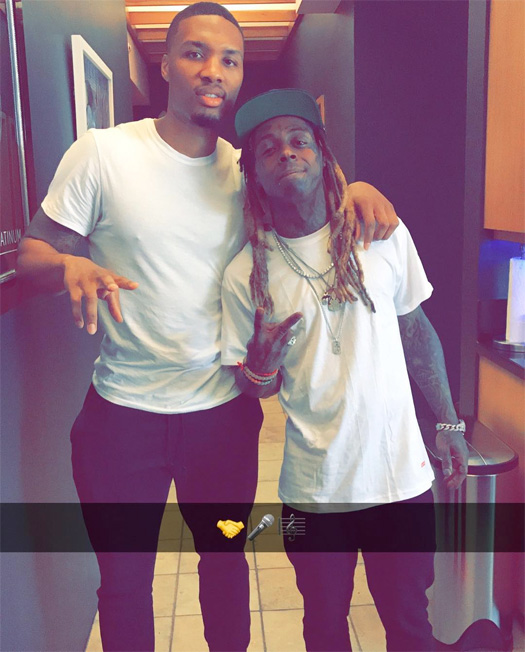 When Big D.O.L.L.A. dropped, Damian Lillard aka Dame D.O.L.L.A. chopped it up with HotNewHipHop for an interview.
During their conversation (see below), the rapper/NBA player talked about his relationship with Lil Wayne and earning his respect.
Dame also said that Tunechi is a "mainstay" on all of his albums and whenever he puts out a new project, we can always expect a Tune feature!
Before the interview, I also found out that Wayne has some production credits on your current album and you've worked with him in the past. How were you able to cultivate that relationship over the years?
He saw that I was doing music and thought it would be a good idea for us to connect on some music stuff. We knew a mutual person and they connected us. From the jump, me and him had direct contact with each other. So I didn't have to go through two or three people to communicate. It was just me and him. We were texting, talking on the phone and he sent me a song originally. When he sent me the song, I sent it back immediately because I didn't want to keep Wayne waiting. He was like, "Man, you really can rap." He respected it and sent me like two more songs so I sent those back. I ended up sending three or four songs back to him and then I got him on my first album. We've been real cool ever since then. He's kind of a mainstay on my album. Whenever I'm doing an album, you can expect that Wayne track.

You said you made more songs than you ended up putting on the album. What's your decision process behind choosing which tracks you want on the album?
I send them to people whose opinion I respect. I'm real cool with Common. I'm real cool with Wayne. I'm real cool with J Cole. I'm cool with his manager. I'm cool with Pusha T. People who's opinions I respect, I'll send them a song and take the feedback, whatever criticisms they have, and then, I'll play it for the people that I'm around, people on my label, people that I do music with. I let them hear it. Then, I'll just listen to it over time myself and if it's something I eventually grow off of, I'll be like "Nah. I don't like it as much as I did in the beginning." Then I'll take that with the opinions that I got from other people. There are some songs I make where I really like it and over time I still like it. Some times I like songs more.