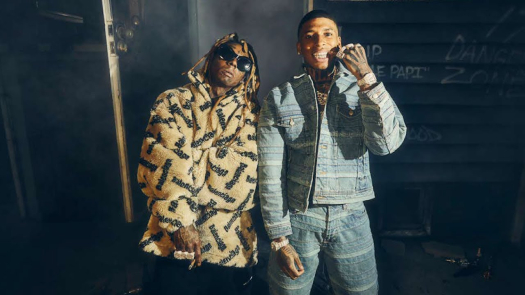 NLE Choppa released the Deluxe 2.0 edition of his Cottonwood 2 album on October 27th, which included an introduction skit from Lil Wayne titled "MESSAGE FROM WEEZY".
The Memphis rapper and Wayne had a "Ain't Gonna Answer" single along with a music video on the original version of his project back in March of this year.
You can stream the interlude from Tunechi below, as well as view the full lyrics for it! Did you enjoy the "Message From Weezy"?
Stream
Lyrics
They got a lot of p*ssy n*ggas out here
Got a lot of b*tch n*ggas out here
Got a lot of hoe n*ggas out here, we don't f*ck with 'em
My n*gga Chop', he cut from a certain cloth
A lot of you n*ggas don't know about that
A lot of n*ggas don't know about that cloth
A lot of n*ggas don't know that fabric
Cause you ain't that real, you'll never be so
When I meet a n*gga, I look a n*gga in the eyes see what he talkin' 'bout
See what he is, before he even say a f*ckin' word
Homie had to say nothing to me
I knew he was real, I knew he was genuine
I knew he was a good n*gga, you don't find good n*ggas no more
Cottonwood 2 hoe, deluxe 2 point nuggеt, again, bi'atch
It's Cottonwood 2 hoe, deluxe 2.0, my lil' bro Choppa, hol' up
We got еight bullets on this one for you, you know what I mean?
Chop', it's about that time to kill a motherf*cker
Kill him again, dead again, don't spare f*cking soul on these n*ggas man
I heard you moved back to the trap for this one too, your old hood, huh?
Just to make this b*tch right
The fans gon' f*ck with you, they won't be disappointed with you, I promise
Again, we got eight bullets at your f*cking head on this one
This the deluxe, n*gga
2.0 Cottonwood 2, you already know the block, n*gga
Click here to stream all of NLE Choppa's Cottonwood 2: Deluxe 2.0 album on Spotify.