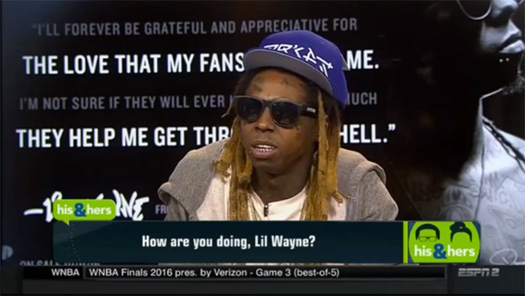 As well as appearing on "First Take" yesterday, Lil Wayne also made an appearance on ESPN's "His & Hers" show to promote his "Gone 'Til November" book.
While on the show, Weezy chatted about his retirement tweets, his "No Mercy" single for "Skip And Shannon: Undisputed", what his daily regiment was during his time at Rikers Island, receiving fan mail, how hard it was for him to miss some of the pivotal moments in his kid's lives, and more.
Tunechi also spoke on Chris Bosh and compared his current situation with the Miami Heat to exactly what he is going through right now with his record label Cash Money Records. You can watch the conversation from the 12:40 mark in the video after the jump below!