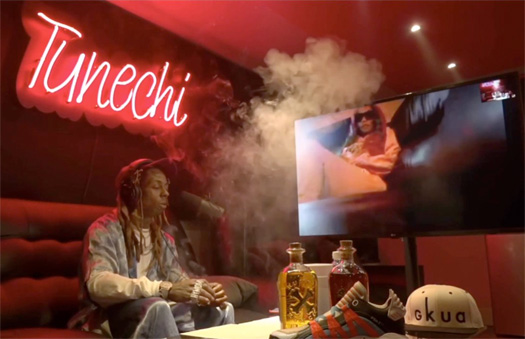 For episode 8 of the "Young Money Radio" show on Apple Music on June 12th, Lil Wayne chopped it up with T-Pain, Lil Duval, Damian Lillard, N.O.R.E., and Nicki Minaj.
After paying tribute to the 12-year anniversary of his iconic Tha Carter III album, Wayne spoke with Pain about how their "Got Money" collaboration came about, both of them being on "The Masked Singer", and working on T-Wayne 2 with hopes of another song like "Damn, Damn, Damn". Duval then came on the show to discuss his 43rd birthday, making music, his upcoming comedy special, and more.
Tunechi also chatted to Dame D.O.L.L.A. about the recent protests, police brutality, his shoe deal with Adidas, who his influences in hip-hop growing up were, memories of Kobe Bryant, and tease an unreleased song they have together. Noreaga then came on the show to talk about how he and Tune first met, his favorite boxer, Capone, the late Ceelow, Drink Champs, and recall giving Cash Money a bag of guns for their tour bus back when Young Buck was hanging around with them.
"Telling NASCAR to take away the Confederate flag is like telling me to cut my dreads off."
Lastly, Weezy chatted with his Young Money artist Nicki about his "Tunechi" sign in his studio, how a lot of people told him to not sign a female, taking time off social media, Minaj getting married, and a possible collaboration album from the two. You can watch highlights from all of their conversations in the videos below!