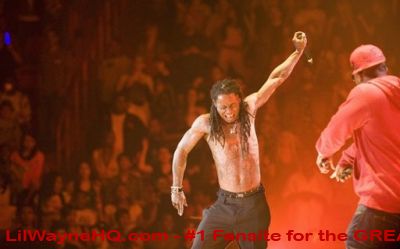 This might be the tour of the Summer! Whether you deem it a tour or a music festival, Wayne, Jeezy, Soulja Boy and Drake's "America's Most Wanted" outing will be a show not to miss. Announced about 30 minutes ago, the Hip-Hop foursome will set out on the North America/Canada excursion starting in Scranton, P.A. on July 27 and ending in Dallas on August 23rd.
Aside from Soulja Boy (no hate given), these three are probably the hottest in the game to date. And with each of them appearing on every record on the radio, one could only imagine the surprise guests diddy bopping onto their respective sets.
Young Money's, "America's Most Wanted" Music Festival will showcase Drake opening the show, followed by Soulja Boy, Young Jeezy and Lil Wayne closing out the set each night.
Ecstatic? Nah, not really. But this is an INCREDIBLE look for Drake and Soulja Boy. It's extremely dope to see new artists showcase their talents on huge outings like this. Congrats.
Click continue below to view the Music Festival dates and one just might be hitting your city this Summer.
7/27/09 SCRANTON, PA. TOYOTA PAVILION
7/29/09 SARATOGA, NY PERFORMING ARTS CENTER
7/30/09 PITTSBURGH POST GAZETTE PAVILION
7/31/09 PHILLY SUSQUEHANNA BANK CENTER (CAMDEN)
8/1/09 NYC JONES BEACH
8/2/09 V. BEACH VERIZON WIRELESS AMP.
8/4/09 TORONTO MOLSON AMP.
8/5/09 MONTREAL BELL CENTRE
8/6/09 CLEVELAND BLOSSOM PAVILION
8/7/09 D.C. NISSAN PAVILION
8/8/09 RALEIGH WALNUT CREEK AMP.
8/9/09 ATLANTA LAKEWOOD
8/12/09 PHOENIX CRICKET WIRELESS AMP.
8/13/09 LA TBA
8/14/09 IRVINE VERIZON WIRELESS AMP.
8/15/09 OAKLAND SLEEP TRAIN AT CONCORDE
8/17/09 VANCOUVER GM PLACE
8/18/09 EDMONTON REXALL PLACE
8/20/09 DENVER FIDDLERS GREEN AMP.
8/22/09 HOUSTON CYNTHIA WOODS MITCHELL PAVILION
8/23/09 DALLAS SUPERPAGES.COM CENTER
Shout outs to LowKey