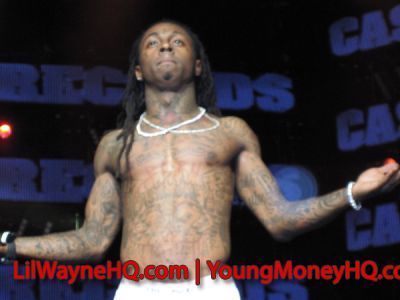 Super producer turned movie director QD3 is gearing to unleash a barrage of DVD projects in the next few months. Taking a break from the highly successful Beef DVD series, QD3 told Hip-Hop Wired exclusively:
"We got a Lil' Wayne film that we just finished that we took to Sundance that'll be coming out real soon and then we have two other films. One that's about urban skateboarding called Concrete Jungle with guys like T.K. (Terry Kennedy) blowing up. We did a documentary on that because we felt like the whole skate movement is a real nice alternative to see another opportunity for inner city kids. Just like basketball and Hip-Hop, it's another lane for us to take now. We want to help accelerate that movement in a big way and urban skateboarding is huge in California for sure."
QD3 also made headlines several months back after legal battles over his authorized feature documentary The Carter, which focuses on the life of Lil Wayne. After the film was completed, Wayne filed a lawsuit over "scandalous portrayal" and stated that he was supposed to receive final approval over the film before its showing and that some footage could be detrimental to his reputation and career…in particular him sipping syrup throughout the film. The case eventually was rejected. Not focusing on the negative, QD3 maintained, "I can't really speak on that but I think a lot of that was just miscommunication." He further added to Hip-Hop Wired:
"The main thing that the documentary shows… I think a lot of people would imagine that Wayne is hanging out in clubs with a bunch of women and drinking champagne and that sort of thing. But I would say the main thing you learn when you watch the film is that Wayne is a workaholic. Straight up. After seeing this I think a lot of people will respect his process a lot more. We were with him like 7 or 8 months before he went platinum and then maybe two months after. That's the period we were shooting him for and I remember one day when he got a text from Sylvia Rhone that he went platinum, he was like, "O.K." He didn't even flinch. He was "O.K., cool" and "get off my bus, I gotta record."
His whole thing is he's like tireless worker and a lot of people will be very surprised how he's 100% dedicated to his craft and he's also daring like when he's on stage and in the studio, like there's no boundaries for him creatively. I think when people see it they're gonna have a whole different type of respect for him seeing him so young and successful yet staying truly focused on being good and becoming better. That's the main thing and it's not a whole lot of ego or fanfare about who he is as a star in the film at all. Wayne stays on his bus and he's got a recording studio up there and that's his life. So even if he pulls up at a hotel, sometimes he'll be on the bus just to record.
I really gained a lot of respect for him in that regard in terms of how he approaches his records and then how hard he works. I would have to say…I worked with Tupac a lot and I feel like he may end up with a bigger catalogue than Tupac if he hasn't already. That kid works, he's a hard worker, super focused and doesn't get caught up in the industry like that. He just stays in the studio all the time."