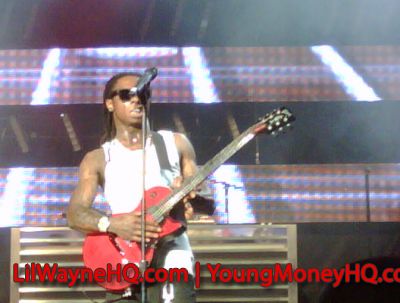 Lil Wayne 2008-2009 Tours Gross $42 Million
The final numbers are in for Lil Wayne's 2008-2009 North American touring, and it looks like the rapper will have the highest grossing hip-hop tour of the year — and the most lucrative rap jaunt that Billboard has ever tracked.
Seventy-eight Lil Wayne headlining arena and amphitheater concerts in North America from Dec. 14, 2008, through Sept. 6, 2009, grossed approximately $42 million and drew nearly 804,000 fans, according to Lil Wayne tour producer and tour business manager Shawn Gee, who also serves as president of music and entertainment at Sports & Entertainment Financial Group.
"It's definitely one of the biggest in the last couple of years," Gee tells Billboard.com, noting that Haymon Events/Live Nation was the exclusive tour promoter for all of the shows. "Our plan was to prove that Wayne was a viable headlining arena artist."
The second highest-grossing rap tour that Billboard has tracked was Jay-Z's 2008 jaunt with Mary J. Blige, which grossed $34.6 million and drew 310,694 concertgoers to 28 shows, according to Billboard Boxscore. Kanye West's 2008 Glow In the Dark tour comes in third, having pulled in $30.8 million from 49 concerts that attracted 507,853 fans.
Other lucrative hip-hop tours in recent years include 2005's Eminem/50 Cent Anger Management tour, which grossed $22.7 million from 23 shows; and a 50 Cent tour in 2003 that rang up nearly $23 million in ticket sales, much of it co-headlining with Jay-Z on the Roc-the-Mic tour, according to Boxscore.
Hip-hop tours rarely crack the Billboard year-end list of the top 25 grossing tours, but it's likely that Lil Wayne's 2009 trek will earn a spot on this year's tally. Several well known support acts on various legs of the rapper's tour helped push ticket sales, Gee admits.
On the first leg of Lil Wayne's I Am Music Tour (Dec. 14, 2008 through Jan. 28, 2009), other artists on the bill included Keyshia Cole, T-Pain, Gym Class Heroes and Keri Hilson. Later, his America's Most Wanted Music Festival trek (July 27 through Sept. 6) featured opening performances by Young Jeezy, Drake (who only appeared at three shows due to an injury), Soulja Boy Tell 'Em, Jeremih and Pleasure P.
Gee, who was brought on by the rapper's management last fall to "help redefine Wayne within the touring market," says the main touring strategy was to create packages that appealed to fans of different musical genres. "We wanted to make sure we put together a package and over delivered to the consumer," says Gee, who's also worked with artists including West, the Roots and Jill Scott.
"We strategically put the I Am Music package together to make sure that all segments of Wayne's fanbase would be interested in one, if not, all of the opening acts," he continues. "We had T-Pain as an opening act, who's had hits over all formats of radio; we had Keyshia Cole, who is more of an urban-leaning female; and we had Gym Class Heroes, which is more alternative."
Although no specific touring plans are currently in the works, Gee believes that Lil Wayne will continue as an arena-sized headliner. "We definitely want to capitalize on the success we've had and want to continue building Wayne as a touring artist and not just an artist that tours," he says. "We established him as a headline artist and I think it grows from there."